January 21, 2018 (Antholz, Italy) – Snowy conditions saw the USA's Tim Burke finish 22nd in the men's 15km Mass Start with four penalties at 1:43.8 behind winner Martin Fourcade who had two missed targets with a time of 40:18.6.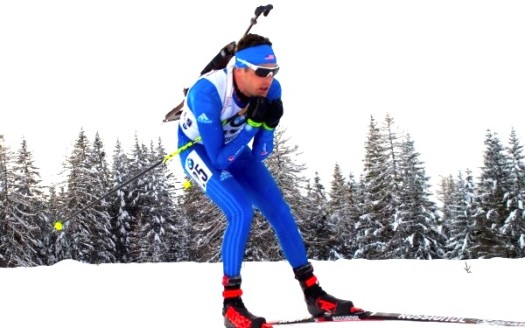 Norway's Tarjei Boe landed second on the podium also with two penalties at 2.8 seconds back. Boe's teammate, Erland Bjoentegaard, notched his first-ever world cup podium taking third, also with two penalties at 5.1 seconds behind Fourcade.
None of the 30 competitors clean all 20 targets, and only two hit 19 of 20. Burke was among a group of 11 that cleaned on the opening prone shooting stage but suffered two misses in the second prone stage and one more at each of the standing stages.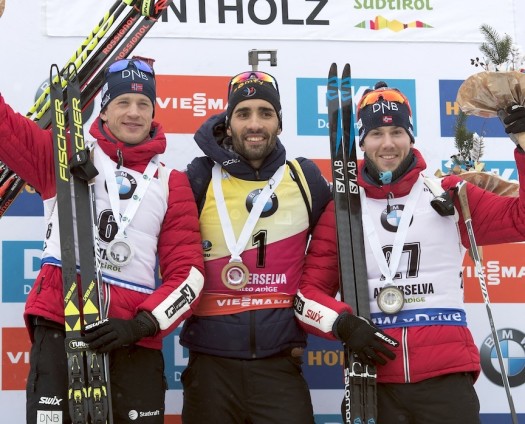 "The conditions on the range were pretty tricky today with strong wind gusts," said Burke. "I made the right adjustments on the first prone stage but underestimated the wind on the second stage and missed accordingly. It snowed a lot overnight but the groomers did a good job with the track and conditions were good for the race."
"I felt a bit tired during the race today but that was to be expected with three races in three days at altitude," he added. "Now I am looking forward to a few recovery days and then starting my final preparations for the Olympics."
In the women's 10km Mass Start, Darya Domracheva staged another of her classic comebacks, cleaning the last standing stage to move from 10th position to first place, winning the snowy Antholz race in 40:23.9.
Her only penalty of the day came in the first prone stage when she fell to 19th position, then steadily moved up to finish 11.9 seconds ahead of second place Anastasiya Kuzmina of Slovakia, with three penalties. Fast finishing Kaisa Mäkäräinen of Finland, with four penalties, took third at 16.2 seconds back. No North Americans competed.
Results here.