February 11, 2017 (Finsterau, Germany) – Canada's Mark Arendz struck gold on the opening day of the 2017 World Para-Nordic Ski World Championships, winning the men's 7.5 kilometre standing biathlon race on Saturday in Finsterau, Germany.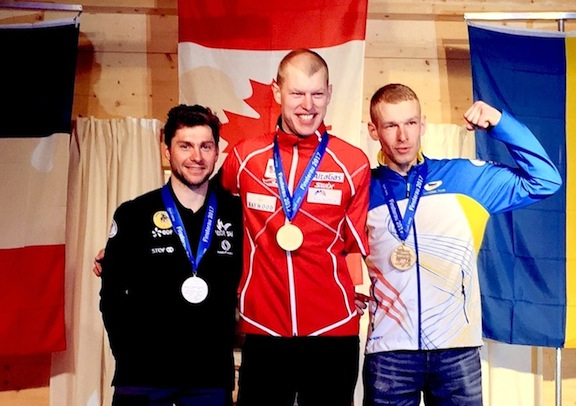 The two-time Paralympic medallist from Hartsville, P.E.I. enjoyed a perfect day of skiing and in his four rounds of shooting on the range to clock a golden time of 30:39.3.
"I have left the last few World Championships wanting more, especially after my success in Sochi, so there has been a lot of work to get this," said Arendz, who added the warm weather and hard-packed snow were conditions that suited his strengths. "To accomplish this in my first race is a huge confidence boost as I head into the rest of the week. It is a fantastic way to kick off the week."
It was just the second World Championship title for the 26 year old, and first podium at the premiere international race in a non-Paralympic year in three years. Arendz won a gold in a biathlon sprint race, along with two bronze in 2013.
"The biggest change for me has come from my approach to shooting," said Arendz, thanks to a recent coaching change. "My new (shooting) coach has really brought my shooting back to the level that it once was. I was repeating too many bad habits, so the key was to rebuild the shooting from the ground up. Today, I proved the shooting is once again back on top.
"Shooting clean at major events is key. I controlled what I could on the range. On the course, I worked on areas where I am stronger and held a consistent pace."
Arendz finished 25 seconds ahead of the silver-medal winner from France, Benjamin Davlet, who stopped the clock at 31:14.3 after missing two shots on the range (0+0+1+1). Grygorii Vovchynskyi, of the Ukraine, was third with a time of 31:22.8 (0+1+0+1).
Germany's Martin Fleig set the time to beat at 37:31.0 (1+0+0+0) in the men's 12.5 sit-ski biathlon competition. Competing in just his second year against the world's top Para-Nordic skiers, Collin Cameron finished in fifth place. The Sudbury, Ont. resident missed just one shot in his second round of shooting to finish with a time of 40:02.0 (0+1+0+0).
U.S. Army veteran Andy Soule from Pearland, Texas finished sixth and being in the mix for a podium spot as four men battled for the bronze throughout the race. Derek Zaplotinsky, of Smokey Lake, Alta., placed ninth at 43:05.8 (1+0+3+0).
The USA's Oksana Masters from Louisville, Kentucky finished seconds away from a podium finish in the 10-kilometer women's biathlon sitting race. After nearly a two-month break from international competition, Masters returned to competition in strong fashion as she was less than five seconds back from third place.
Meanwhile, Brittany Hudak was the top Canadian woman in the 6-kilometre standing biathlon race. Hudak shot clean while skiing to eighth place with a time of 36:39.2. Vancouver's Emily Young struggled on the range, missing five targets, dropping her to 10th place at 39:28.2 (0+2+0+3).
Oleksandra Kononova, of the Ukraine, won the division with a time of 31:41.5 (1+0+1+1).
Men's Biathlon Results
here.
Women's Biathlon Results
here.