November 25, 2017 (Ruka, Finland) – Canada's Alex Harvey, 29, finished 13th in the men's 15-kilometre classic-ski individual start race on Day 2 at the Ruka mini-tour as Norway went 1-2 with Johannes Hoesflot Klaebo setting the best time followed by Didrik Toenseth in second with Finland's Iivo Niskanen in third.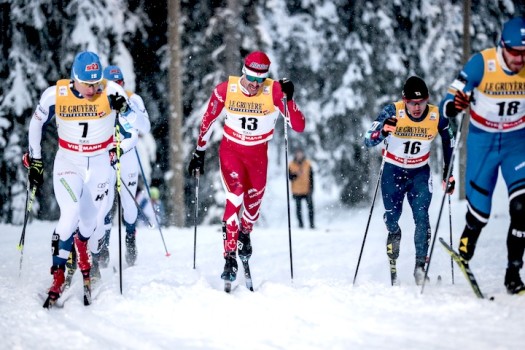 American Erik Bjornsen raced into the points claiming 26th with Canadian Devon Kershaw earning the same time. The duo were followed by Swiss stud Dario Cologna in 29th.
"It was a good one for the first distance race of the season. I really tried to find the balance of not starting too fast or slow. I was feeling good and it was good to be in the game today," said Harvey, who is now 12th in the overall standings for the three-race mini-tour.
"Individual starts are always very difficult. It took me a while to figure them out because I always started too slow from the beginning. It's about starting fast enough so you are putting the hurt on yourself in the first lap, but staying patient and not going too fast to kill yourself," said Harvey. "You have to bite your teeth a bit in these races."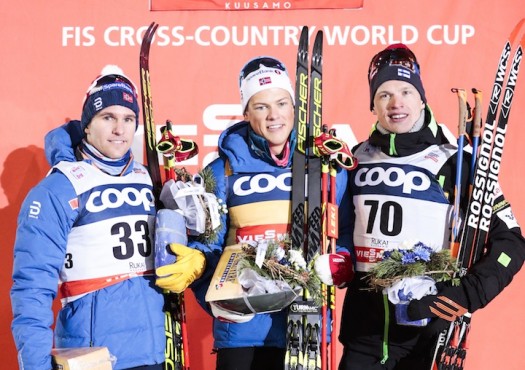 Bjornsen is off to a good start as well. "I'm very happy with the results so far. I didn't have the best feelings the last couple weeks, so I wasn't expecting to be in the points right away. I had a bigger training load in September/October than years in the past. The training plan is designed around getting the best results in February," he told
Trax
.
"Today's conditions were very tricky. I decided to go for glide. I had a pair of rockets under my feet but I didn't stride in the tracks once," added Bjornsen. "I had a great ride from Iivo for the second lap and I'm psyched with my overall position."
Harvey met up with his longtime World Cup mate, Kershaw at the 5km mark. Skiing together, the two Canucks pushed their way up the standings. Kershaw was in 55th at the time before he began pushing the pace with Harvey to climb 19 positions.
Noah Hoffman (USA) finished 43rd, Len Valjas (Can) was 48th, Graeme Killick (Can) was 58th, Andy Newell (USA) was 59th, Patrick Caldwell (USA) was 72nd, Scott Patterson (USA) finished 86th, Knute Johnsgaard (Can) was 87th, Simi Hamilton (USA) placed 96th, Julien Locke finished 100th and Jesse Cockney was 109th.