December 05, 2017 (Lillehammer, Norway) – Canada's Alex Harvey earned his best result this season with a strong 6th place finish against a stacked field in the men's 30km Skiathlon as Johannes Klaebo captured gold again besting teammate Martin Johnsrud Sundby who settled for second with Hans Christer Holund completing the Norwegian podium sweep.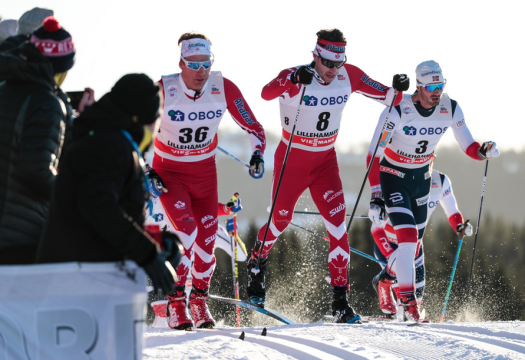 Harvey's teammate Devon Kershaw battled to a solid 19th-place finish following an exciting stint at the front of the pack during the Classic leg. American Erik Bjornsen claimed 20th showing great form for his best Skiathlon result.
"It was a really good day with a steady, hard pace right from the gun. I felt good all day and the skis were great," said the 29-year-old Harvey, who was the lone Canadian to crack the top-30 in Saturday's sprint race, finishing 28th. "I'm missing my top speed right now, but the base is really good – maybe better than it has ever been. To finish sixth when I know I'm not in the best shape yet is really good."
Heading into the transition box in 14th place, Harvey jumped 10 spots into fourth. "This course is so hard. Having to ski that large hill which is like 3-4 minutes of sustained climbing, four times in classic and skate is really, really hard," said Harvey. "I was well positioned in the front of the group of seven in the skate until the fireworks went off with 1.5-kilometres to go."
Sundby attacked just before the crest of the hill on the final climb where he stretched the lead group. With four Norwegians battling it out to determine the medals, Harvey lacked the jam to respond, and cruised home for sixth place. Klaebo matched Sundby near the end and overtook him in the finishing straight for the win.
"That is what I'm missing right now is really that top level. I wasn't able to go with Sundby and I slowly drifted from there," said Harvey. "These other guys have different goals right now. The Norwegians have to be on the podium in these early races if they want to go to the Olympics so they have to do this every race. My goals are to be reaching my top gear by the Tour de Ski. Racing is good training for that."
Full results here.