January 28, 2018 (Seefeld, Austria) – Canada's Alex Harvey captured his third podium of the season finishing 2nd behind Switzerland's Dario Colgona in the Men's 15km FR mass start with Norway's Martin Johnsrud Sundby in third.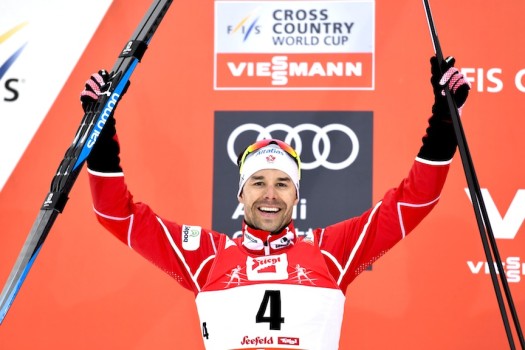 The USA's Eric Bjornsen nailed a career-best 9th with teammate Simi Hamilton in 12th, his best-ever distance race result as well, for a strong North American showing at the final World Cup competition before the start of the Winter Olympic Games in Pyeongchang, Korea. Also in the points were Scott Patterson (USA) who finished 27th and Devon Kershaw (Can) in 30th. The World Cup in Seefeld is also a test event for the 2019 Nordic World Chanpionships.
"When you haven't raced in two weeks it is always exciting to see where you are at. I was ready to take a beating today," said Harvey. "The races started our really fast so that first lap was hard. I was feeling really tired after the last few weeks of training and thought 'oh boy, this could be a long day.' After the first lap, things started slowing down and I was able to pace myself. It turned out to be a really good day."
Bjornsen was on cloud nine with his first top-10 World Cup performance. "What a fun race that was today. Such an awesome feeling to see the leader right in front of you the whole time. Being on the World Cup for the last four years, it's a feeling I've lost touch of. I'm just super happy to feel competitive with the best," said Bjornsen.
Hamilton was equally stoked as he's known for his sprinting prowess. "It was a great day out there for the North Americans. I was really happy with my race, and definitely surprised myself. From the start I just focused on moving up through the pack as efficiently as I could. My skis were absolute rockets, and I think that was pretty evident with some fantastic results in both the men's race and the women's race," Hamilton told Trax.
The early leader was Russia's Ustiugov which raised some eyebrows considering his recent ban by the IOC from competing in Pyeongchang. The initial fast pace eased up and the lead changed as all moves were marked.
Cologna attacked on the final big climb of the 3.75 km course and established a gap that gave him the edge needed as Harvey an Sundby duked it out for second with the Canadian coming out on top.
"I was tired from the sprint yesterday. Usually I don't have such a long day with sprints. With the fast pace from the start I wasn't quite ready for it. But I moved up when I could and knew that the final big hill would be the place to try and win the race. It's good to know that since the Tour de Ski my shape is still at a high level and I'm happy heading into the Olympics," said Cologna.
"It wasn't the hardest course so I kind of just mentally got myself ready for the big push at the end," added Harvey. I was able to pace myself for the last uphill. I knew it would come down to a sprint down the last hill. Dario just had a little more than me at the finish. It is a great feeling to know you can find something inside to finish second on a day when you aren't feeling good or don't have the legs."
Graeme Killick (Can) also had his top result of the season finishing 31st, Patrick Caldwell (USA) was 49th, Ben Lustgarten (USA) was 56th, Len Valjas (Can) was 58th, Tyler Kornfield (USA) placed 77th, while Knute Johnsgaard was 82nd, Bob Thompson (Can) was 87th and Julien Locke finished 92nd.
Results here.