January 04, 2018 (Oberstdorf, Germany) – Canada's Alex Harvey raced to strong 5th-place finish in the men's 15km FR mass start race in tough conditions, including a broken pole, and holds onto his 4th place overall as Norwegian Emil Iversen claimed the win.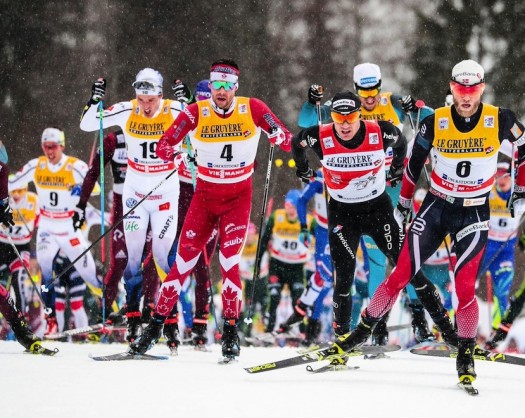 Iversen took charge in the final hill to pass his teammate Sindre Bjoernestad Skar for his first victory this season as Skar settled for second a mere 0.4 seconds back. Italy's Francesco De Fabiani took a close third at 0.9 seconds behind for his first podium of the season was.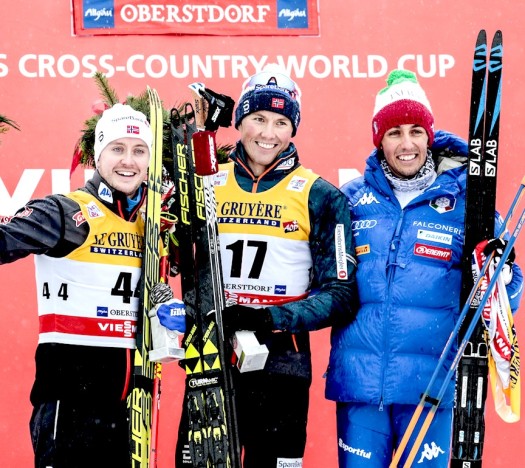 "It was complete mayhem out there today and I think made our sport look bad," said Harvey, who added the field skied an altered course due to the damage caused to the regular Oberstdorf course by Wednesday's storm. "The conditions were sketchy. Guys were crashing everywhere. The course is so flat that everyone was skiing in a large pack and people were breaking poles. They should have just held an individual start race."
The USA's Erik Bjornsen was 32nd on the day with teammate Patrick Caldwell 39th followed by Andrew Newell in 53rd as Simi Hamilton dropped out of the Tour to train for upcoming races.
Bjornsen in 20th overall also departed telling Trax, "I'm in Ramsau now. I decided to end the Tour a few days early. One of my goals this season is to prepare as best I can for the team sprint events. I believe it's my best shot at a podium, and it's not an opportunity I want to pass on. I'll try to put in a good week of training to get prepped for Dresden. It was a fun Tour de Ski and I hope someday I can finish the whole thing in the top 20."
Overall Tour leader Dario Cologna of Switzerland was 4th on the stage and with bonus seconds gain during the competition now leads by 53 seconds with two stages remaining.  Second place in the standings is still Russia's Sergey Ustiugov despite a fall that resulted in him finishing in 28th place but only 11.1 seconds back of Iversen.  Norway's Martin Johnsrud Sundby remains in 3rd place in the overall Tour standings just ahead of Canada's Alex Harvey (4) and Russia's Alexander Bolshunov (5).
I just tried to ski smart and near the front, but with the slow snow it was a tough one," said Harvey. "The body still feels really good. Skiing in a large group like that and on a pretty flat course didn't take much out of anyone at all. I'm still in fourth place in the overall and looking forward to another 15 kilometre mass start on what is a tough course in Val di Fiemme on Saturday."-