June 24, 2017 (Canmore, AB) – After successfully achieving his dream of not only competing for Canada at a Paralympic Winter Games, but guiding Brian McKeever to two gold medals in Sochi, Erik Carleton has decided to call it a career from racing full time on the Para-Nordic circuit.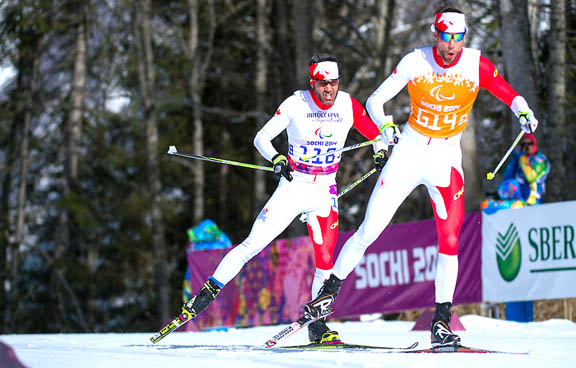 The 39-year-old Carleton is ready to spend time with his wife, 97-year-old- Grandma, and his father and mother, who have supported his pursuit of excellence in cross-country skiing since he was a young boy.
"I am very fortunate to have lived the life of an athlete for so long, but it was too good to last," said Carleton. "I'm proud of staying involved at a high level, and that I always strived for improvement, while helping Brian achieve his performance goals."
A former National Junior Team athlete, Carleton united with his childhood friend McKeever in 2011 when Robin McKeever transitioned from guide to head coach of Canada's Para-Nordic squad. The newly formed duo had immediate success, dominating IPC World Championship and World Cup races around the globe.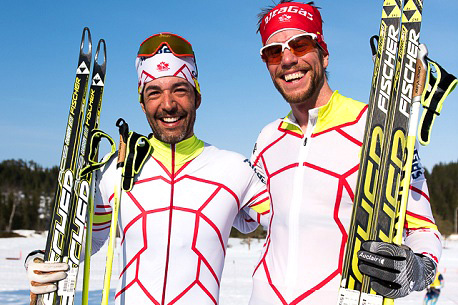 Skiing into the 2014 Games with 10 medals under McKeever's belt, Carleton helped the Paralympic legend add two more gold medals to his resume in middle and long distance racing.
"Standing on the Paralympic podium with Brian was a moment I will cherish forever. It validated years of work and clean sport, and made me think of everyone who supported me to get there," added Carleton, who formed a one-two guiding punch with Graham Nishikawa for McKeever in Sochi. "I am very grateful to Nish (Graham Nishikawa) for jumping in on race day. Our performances in Sochi were a complete team effort. I am so thankful for our coach, Robin McKeever, and all of the wax techs. And my parents deserve a special mention for supporting me over the years."
In his six years guiding McKeever, the dynamic duo racked up two Paralympic gold medals, three IPC World Championship titles, and finished first overall on the 2013 IPC World Cup where they won five races.
"Erik's been my guide and teammate since 2011, but our friendship goes much farther back. We've been competitor throughout our racing lives which forges a ton of respect for each other," said Brian McKeever. "His competitiveness and desire to improve is inspiring, and made me a better athlete. My weaknesses were tempered by Erik's strengths, which made us a great team.
"I never saw Erik give anything less than his best, and that is an inspiring trait. I will always be grateful for Erik's sacrifices to our program, his patience, and I'm thankful he was able to accept my stubborn approach to training and racing. I will miss his enthusiasm and excitement, but I know he'll still be involved in skiing and we will always be friends and training partners with a shared love of the sport."
While Carleton won't be travelling the world on a mission for gold, he will still hit the start line for a race or two in Canada.
"Skiing is a lifelong sport and I will keep racing where I can – without training as much," said Carleton, who is a database developer at SCAinteractive. "I'm looking forward to doing more non-specific activities that I enjoy including canoeing, hiking, camping and fishing. There are so many places to explore close to home. My community has given me so much that I look forward to doing some volunteer work to give back."
Graham Nishikawa will help guide McKeever in his continued mission for gold medals at the 2018 Paralympic Winter Games in PyeongChang, Korea.