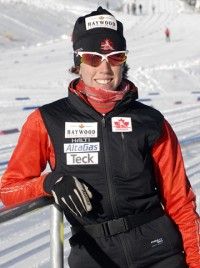 December 08, 2010 (Canmore, AB) – It's been a long time since I put a bib on, but this past weekend it was a wonderful feeling. There were some Alberta Cup races happening up at the Alberta Nordic Center, so most people took the opportunity to get some racing in before heading to Vernon, BC, for the first Nor-Am of the year next weekend (Dec. 11-12) – read more on the Alberta Cup weekend HERE.
I felt great both days, and am pretty excited to hit the trails again at Sovereign Lake. Even more exciting though was to wake up Sunday morning and see that my teammates had won a bronze medal in Dusseldorf!!
It's awesome to have great teammates, but it's even more awesome when they are lighting it up on the World Cup. A big congrats to Dasha and Chandra, and good luck to everyone next weekend in Davos, Switzerland.
G-Kill and I are road-tripping to the Star…