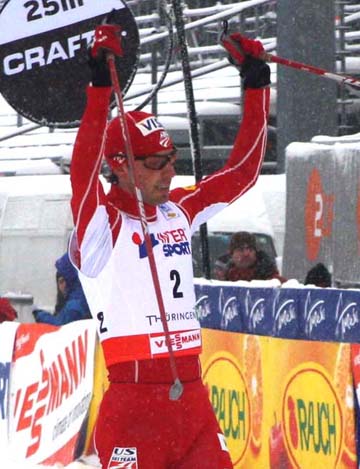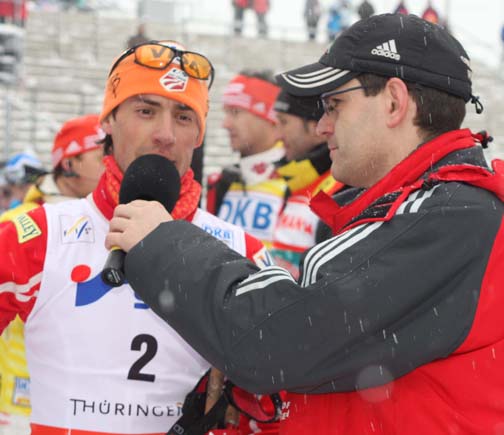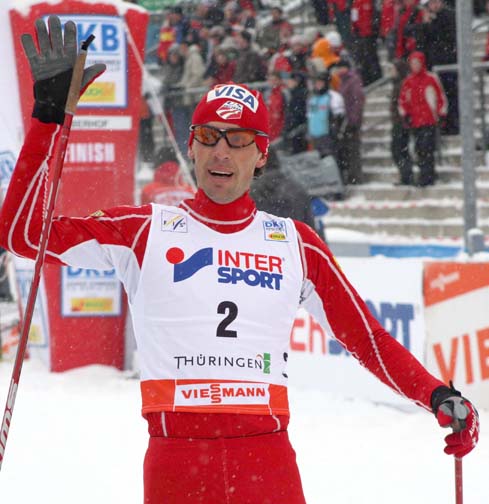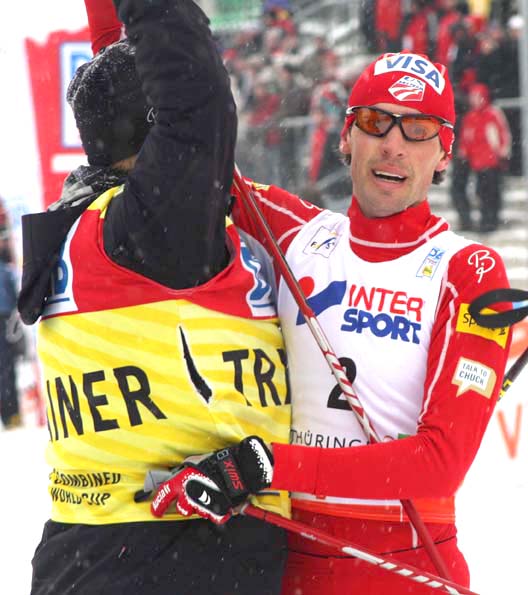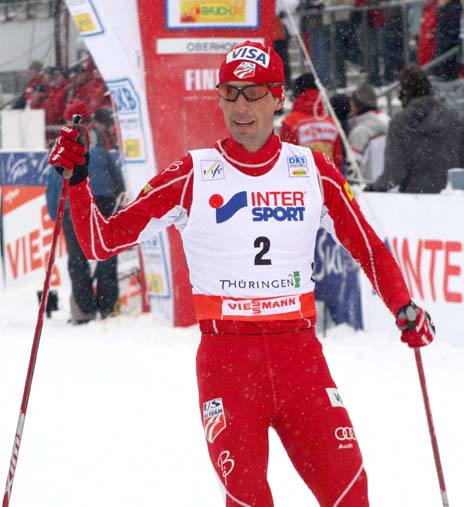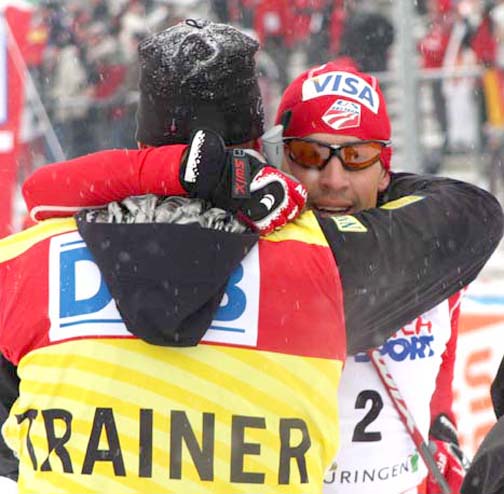 January 8, 2010 (Predazzo, Italy) – Hello from Predazzo, Italy! We finished up our weekend of World Cup competition in Oberhof, Germany. It went really well for me on Saturday and I finished 4th – then on Sunday I scored my first World Cup victory.
Saturday started off pretty well, I jumped to seventh and was in a good position to fight for the podium. The xc ski course in Oberhof is the same one that we've been using for years, and now the Tour de Ski is on the same track.
There are some big hills and overall it is one of the tougher courses on the circuit. Saturday was an extremely difficult race – they tilled the course 15 minutes before we started and it never had a chance to set up, so we were skiing in ankle deep sandy powder. Typically this is a difficult condition for me, but I had a good race and starting the last lap I was in the lead of a pack of five guys fighting for the top.
Unfortunately I think I went a little too hard too early and tried to get away, but every time I put in a big effort to get clear I would turn around and there were still people behind me. By the time we got to the sprint I was pretty well shot and I ended up 4th. Overall it was a good day although I would have liked to be on the podium.
Sunday was difficult on the jump hill. The first 30 or so guys had almost no chance due to heavy snowfall and low in-run speeds. I felt bad for a few of our younger guys who had to jump in the poor conditions. It was their first weekend of World Cup competition and they really had no chance. Fortunately for me, the snow let up and the last 30 jumpers had perfect conditions. I jumped well, going 133 meters and when it was all said and done I was in second place – only two seconds behind the leader.
I knew that if I had a good race I could win, so right from the start I put my head down and treated the race like a time trial. After 7.5km I had almost a minute on the next guy, so I was able to cruise for the last 2.5km. It was a great feeling to finally get on the podium this year!
We're in Predazzo, Italy preparing for the World Cups here this weekend and Predazzo holds a special place in my heart because this is where I won the World Championships in 2003. I'm really looking forward to this weekend and to having more good results.
Our main focus is still Vancouver, and I am getting more confident about our chances everyday. I feel this is probably the best team we have ever had and we are all looking forward to the Games.
Hope everyone back home is doing well and hopefully we can update you with more good results after the weekend!
Johnny Spillane