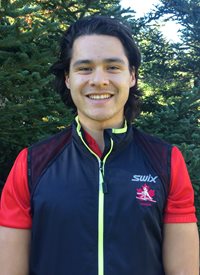 April 13, 2017 (Canmore, AB) – Elections for a new Cross Country Canada Athlete Director took place on March 22nd in Canmore, AB at the annual Athlete Meeting held during the 2017 Ski Nationals.
We are pleased to announce that the athlete community has elected Ryan Jackson. Ryan took his first strides at Horseshoe Valley Ski Resort, in Barrie, ON before moving on to Highlands Nordic and his current Team Hardwood family since he was 14. Ryan currently attends Lakehead University, and is motivated to keep competing for the love of the sport, the simplicity and thrill that racing brings to become the best athlete he can be.
Ryan will be keeping the athlete community updated on various topics of interest via regular email updates. His main goals as an athlete representative are:
– Creating more affordable opportunities for Canadian athletes to participate in international races
– Grow the post-secondary opportunities to student-athletes to pursue skiing at all levels
We would also like to take this opportunity to thank Collin Abbott for his fantastic contributions during his two full terms representing the athlete community as the CCC Athlete Director from 2013-2017.
The Athlete Director who is elected by the athletes at Ski Nationals (subject to ratification at the CCC annual general meeting) sits on the Board of Directors for Cross Country Canada, as well as the High Performance Committee (HPC). The Athlete Director's term is for 2 years, up to a maximum of 6 years upon re-election. The primary role of the Athlete Director is to represent the interests of the entire athlete community at CCC Board meetings and the HPC.
As a member of the CCC Board, the Athlete Director is responsible for overviewing the CCC budget, receiving and questioning updates from the Executive Director, and contributing insight to CCC policies, business and operational plans at monthly meetings. In addition to being a member of the Board, the Athlete Director also sits on the HPC. As a member of the HPC, the Athlete Director responsible for:
– Representing and contributing to the NST/ Para- NST and NDC selections in April
– Review and critique Para and able bodied selection criteria
– Participating with selection committees for various trips
– Provide athlete feedback to the director of high performance