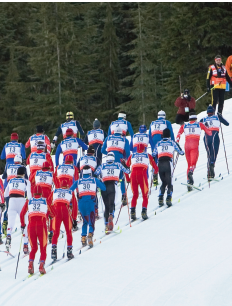 January 29, 2014 – We're excited to present the SkiTrax 2014 Fantasy Contest for contestants around the world. Select the three podium positions for men and women at the 12 races below to score points and be eligible to win great prizes. The contest opens Jan. 31 and closes at 12pm EST on Feb. 7. Here's how it works…
Review the race schedule below and select the podium winners for gold, silver and bronze at each competition, for both men and women, to score points. Bonus points can also be earned i.e. for correctly naming the top Canadian and top US skier at each race. All menus for skier selection are available for each event at registration.
Points will be awarded following each competition and the Contest Standings will be published regularly at skitrax.com so you can follow your progress and see how you compare with other contestants. The race schedule, contest rules, and point system are below.
Race Schedule
Saturday, February 8, 2014
Women's Skiathlon 7.5km Classic + 7.5km Free
Sunday, February 9, 2014
Men's Skiathlon 15km Classic + 15km Free
Monday, February 10, 2014
Women's Sprint Free Finals
Men's Sprint Free Finals
Thursday, February 13, 2014
Women's 10km Classic
Friday, February 14, 2014
Men's 15km Classic
Saturday, February 15, 2014
Women's Relay 4 x 5km
Sunday, February 16, 2014
Men's Relay 4x10km
Wednesday, February 19, 2014
Women's Team Sprint Classic Final
Men's Team Sprint Classic Final
Saturday, February 22, 2014
Women's 30km Mass Start Free
Sunday, February 23, 2014
Men's 50km Mass Start Free
Prizes
1st Prize – Nipika Mountain Resort – 2 nights package, sauna, hot tub and more (value $800)
2nd Prize – Salomon 2014 Equipe RC Classic skis ($559)
3rd Prize – Rudy Project Sunglasses For Sport Agon + For Life Spinhawk (value $450)
4th Prize – Jenex XLF98 Skate or XLC950 Classic Roller Skis (value$350)
5th Prize – Halti Nokka XC Outfit (value $325)
6th Prize – CCC Package – One Way National Team Jacket + Auclair Gloves (value $300)
7th Prize – Exer-Genie XC Trainer (value $229)
8th Prize – Vauhti Package w/Thermo drink belt, kick waxes, cork, ties, manual (value $150)
9th Prize – Fresh Air Experience or High Peaks Cyclery Gift Certificate (value $100)
10th Prize – Buff Headwear (value $23)
Registration now Closed.
ST Fantasy 2014 Contest Rules…
• once you've completed your registration to the site you can enter your podium and Can-US selections via the link below
• all drop down menus with respective skiers are now available
• contest entrants may register (or revise) their selections until Friday, Feb. 7, 2014 at 12 pm midnight EST
• each entrant may only enter once
• to be eligible to win any prizes you must supply your full name, e-mail address, and phone number.
• all prize winners agree to allow their names to be published at skitrax.com and/or in SkiTrax Magazine
• points will be awarded according to the lists below based on daily and overall skier performances
• in the event of a tie the contestant with most first, second or third place selections will determine the winner
• if a tie remains the contestant that registered first will determine the winner
• the contest is open to all players
• prize substitutions are at the discretion of the suppliers
• in some cases shipping costs may apply
• employees or freelancers of SkiTrax Magazine are not eligible to win any prizes
• winners will be announced one week following the Games on Mar. 3, 2014 to allow for the Doping De-Points rule.
Points
Podium (each race)
Gold – 15 points
Silver – 10 points
Bronze – 5 points
Top Canadian skier (each race)
10 points
Top US skier (each race)
10 points
Bonus Points
– Podium Bonus Points – if any skier selected is on 2 or more podiums – earn 10 points
– Doping De-Points – any positive test up to 7 days after Games final – lose all skier's points
– Nations Medal Points – select the top 3 countries for overall medals to earn 10 points
(any order) – or 20 points (correct order)