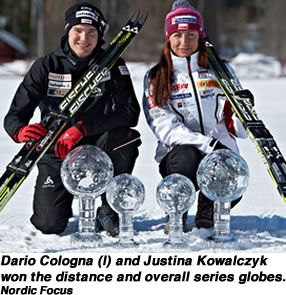 We're excited to present the annual SkiTrax Fantasy FIS World Cup 11/12 Contest once again – the only contest of its kind worldwide. Here's how it works: register your 10-member Fantasy World Cup team and be eligible to win great prizes. Please review the contest rules and make sure you register by the Nov. 18 deadline. The contest is open to all players around the world – good luck to all contestants.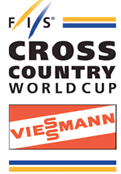 * 1st Prize – Fischer 11/12 Carbonlite Hole Skis, Xcelerator Bindings, Carbonlite Poles (value $1,100)
* 2nd Prize – SkiGo Carbon 780 Roller Skis (value $580)
* 3rd Prize – Alpina ESK Ski Boots (value $449)
* 4th Prize – Bjorn Daehlie Exclusive US XC Ski Suit (value $300)
* 5th Prize – Sporthill XC Pants/Tights and Glacier Top (value $220)
* 6th Prize – Fresh Air Experience or High Peaks Cyclery Gift Certificate (value $150)
* 7th Prize – Rottefella Xcelerator Skate/Classic Bindings (value $130)
* 8th Prize – Bliz Proflip Visor (value $130)
* 9th Prize – Concept2 Goodie Duffle Bag (value $100)
* 10th Prize – Auclair Micro Mountain Olympic Gloves + Earbags (value $65)
* WCup Breaks – Buff Headware (value $22) to top 3 contest leaders before the Tour de Ski



• We've updated the FIS World Cup 2011/12 skier lists and you can register your team via the link below
• each team must consist of four (4) men, four (4) women, plus two "Outlaw" skiers (one male and one female) not in the top 15 of the FIS World Cup XC overall rankings. Select your Outlaw skiers from the menus provided.
• contest entrants may register (or revise) their 10-member team by Friday, Nov. 18, 2011 at 10 pm EST
• each entrant may only enter one team
• if the team name you select has already been chosen you will need to select a new team name
• to be eligible to win any prizes you must supply your full name, address, e-mail address, and phone number
• all prize winners agree to allow their names/photos to be published at skitrax.com and/or in SkiTrax Magazine
• points will be awarded according to our detailed lists below based on daily and overall skier performances
• in the event of a tie by one or more teams the team(s) that registered first will determine the order of the winners.
• the contest is open to all players and all contestants are eligible to win prizes
• in some cases shipping costs may apply
• prizes may be substituted at the discretion of suppliers
• employees or freelancers of SkiTrax Magazine are not eligible to win any prizes
• winners will be announced one week following the World Cup final in Falun, Sweden on Mar. 18 to allow for the
Doping De-Points rule.
Registration is now Closed..

Jersey Classification
– each day
– Yellow Jersey (Overall): 10 pts
– Distance Jersey (Distance): 5
– Sprint Jersey (Sprint): 5
Final GC (top 20)
1 – 25
2 – 20
3 – 18
4 – 16
5 – 14
6 – 12
7 – 10
8 – 9
9 – 8
10 – 7
11 – 6
12 – 5
13 – 4
14 – 3
15 – 2
16-20 – 1
Final Distance
(top 20)
1 – 25
2 – 20
3 – 18
4 – 16
5 – 14
6 – 12
7 – 10
8 – 9
9 – 8
10 – 7
11 – 6
12 – 5
13 – 4
14 – 3
15 – 2
16-20 – 1
Final Sprint
(top 20)
1 – 25
2 – 20
3 – 18
4 – 16
5 – 14
6 – 12
7 – 10
8 – 9
9 – 8
10 – 7
11 – 6
12 – 5
13 – 4
14 – 3
15 – 2
16-20 – 1
WCup Xtras
– Abandons – if any team member abandons lose 10 points (applies to final four WCup races)
– Doping De-Points – any positive test up to 7 days after the last WCup race loses all points
– Bonus Team Points – if your team finishes the WCup with all 10 skiers receive 20 points
– U23 Points – earn 10 points for the male and female winners of the best young skier (U23) category
– Kick and Glide Points – earn 10 points for any skier who wins 3 or more stages
– Nations Cup Points – 15 (#1), 10 (#2), 5 (#3) points for correctly selecting the final top three Nations Cup finishers.
– TdS Points – 15 (#1), 10 (#2), 5 (#3) points for any skier on your team on the final overall podium at the Tour de Ski.
Stage Results –
(sprint or distance)
1st – 15 pts
2nd – 12
3rd – 10
4th – 8
5th – 6
6th – 5
7th – 4
8th – 3
9th – 2
10th – 1