November 12, 2016 (Oslo, Norway) – Norwegian xc ski star, Therese Johaug, might be facing a doping ban of up to four years instead of the provisional 2-month ban she is currently serving. Johaug, who tested positive for the anabolic steroid clostebol in August, claims innocence concerning a cream that team doctor, Fredrik Bendiksen, apparently gave her for treating sunburn.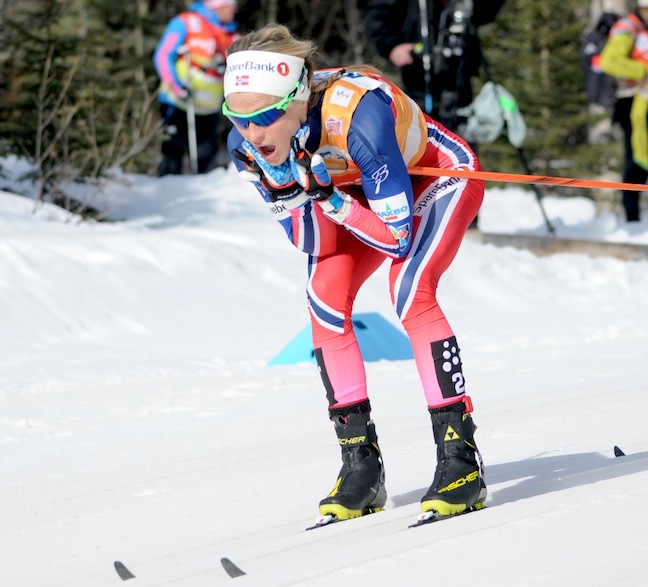 On October 18 Anti-Doping Norway handed down a two-month provisional suspension that expires on Dec. 18 "or until the date of judgment if this time comes sooner," according to release.  A final judgment on the matter is pending
According to Swedish and Finnish media, the International Ski Federation (FIS) has met over the Johaug Affair and considers the two-month sentence to be "too lenient." FIS is likely to ask Anti-Doping Norway for a two-year or even four-year suspension according to a reliable source that apparently told Finnish "…it twill take a miracle for Johaug to compete this season."
The same source suggests that FIS could be satisfied with a two-year suspension and if Anti-Doping Norway does not comply, FIS will likely appeal the sanction to the international Court of Arbitration in Sport (CAS).
The general rule with the World Anti-Doping Agency (WADA) is to apply a four-year ban when an athlete tests positive for a prohibited substance, such as the anabolic steroid clostebol. If it can be proved that Johaug did not act willfully or was in no way grossly negligent, the penalty can be reduced to two years. Also, under the WADA regulations, athletes are responsible for all substances that enter their bodies.
Norway's reputation for excellent compliance in doping controls is currently in tatters; the country's star male skier, Martin Johnsrud Sundby, was recently stripped of several titles for a doping violation. This was followed by news that 69% of Norwegian Olympic medal winners in Nordic skiing are on asthma medication including Marit Bjoergen who is slated to return to the World Cup circuit this season. Then Johaug's doping violation added to the Norwegian tailspin.
Anti-Doping Norway (Norwegian) here.
Expressen (Swedish) here.
Ilta Sanomat (Finnish) here.
SkiTrax's previous reporting here.
VG (Norwegian) here.