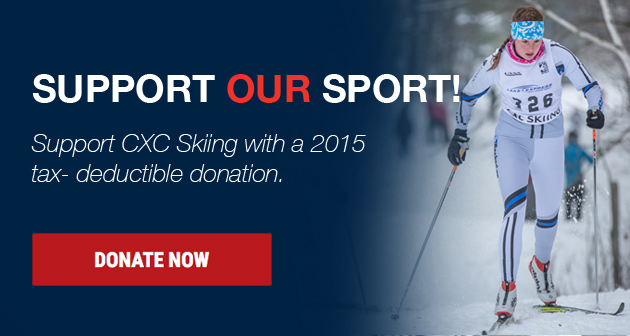 December 22, 2015 (Cable, WI) – Dear friends, our CXC thermometer is growing, and we are getting closer to reaching our year-end goal of $30,000 by December 31, but we're not there yet and there isn't much time left. As of today we have raised $15,750 towards our goal of $30,000! Thank you! We have 10 days to meet our goal and we need your help.
Any amount will help and with a $100 donation or more you will get a special gift from – a CXC Ski Craft 'Sweden Blue' hat. Every contribution no matter great or small is deeply appreciated.
Thank you for your support!
Special gift of a CXC SKI CRAFT hat with your donation of $100 or more!
Donate By Check:
To make a gift by check, please make it out to CXC Skiing and mail it to:
CXC
P.O. Box 930442
Verona, WI 53593
Please make sure to include your current address so that we may send a gift receipt.
Donate online here.
Open Masters/Citizen Technique Camp – Jan. 1-3

CXC is hosting an Open Masters/Citizen Technique Camp, Jan. 1-3, in Cable, WI.
Join CXC coaches and fellow Master skiers in the northwoods of Wisconsin for our focused technique training camp. All levels are welcome, from beginners to advanced.
The camp focuses on drills and workouts that tend to be unique and different from most skiers' normal routines. A fair amount of the work is drills and skills that break down technique to individual movements and that progression helps skiers understand what they must work on the most to improve.
During the three days at the camp participants work on agility, balance, dry-land training, ski imitation, and skiing on snow or rollerskiing. The camp is a great opportunity to learn about training, technique, racing, recovery and more.
Find out more about the camp here.