December 11, 2017 (Davos, Switzerland) – Sadie Bjornsen led four Americans in the top 20 with a solid 12th-place finish in the women's 10 km interval start as Ingvild Flugstad Oestberg (NOR) topped the field once again in Davos.
Teammate Ragnhild Haga was second at 5.9 seconds behind the winner while Finland's Krista Parmakoski took the final podium spot at 7.9 seconds back.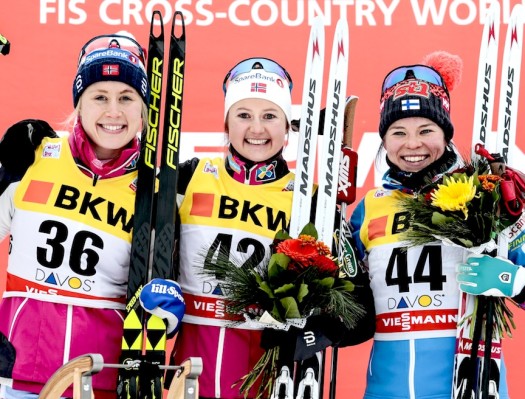 The USA's Kikkan Randall finished 14th followed by teammates Jessie Diggins in 15th and Rosie Brennan in 17th. The USA's Chelsea Holmes made the points in 29th followed by Liz Stephen in 40th.
"It was a really challenging and fun distance skate race. This course is particularly challenging for me, because there is no rest. All the slight gradual downhills, you have to keep working," said Bjornsen. "The combination of the thin air, and the very gradual climbs and descents is a real unique challenge. I decided to go out harder than normal, to see how long I could hold. I think I was able to ski a relatively stable race, with a few weak spots, but I am really satisfied. I look forward to another opportunity next weekend! I am starting to really get into this skate skiing."
Randall was happy with her race. "It was great to have another solid distance race here in Davos. Shows that my race gears are continuing to sharpen with every start!  I happened to start right as Kalla was coming through the lap so I got so ski with her my first lap.  Then it was up to me to try and hold that pace on the 2nd lap.  Definitely got a little tired towards the end of the race and started to lose some seconds but overall I was really satisfied with the performance.  Also fun to see another streak of top results for the whole US women's team!  A great way to celebrate our new truck," said Randall.
Diggins was hoping for more. "I wasn't satisfied with my 10km skate this past weekend, but that's a good thing because I'm always looking for more! I feel that I rebounded from my cold well for the sprint but just had nothing left in the tank for that extra gear you need on this grinding Davos course. Really looking forward to my favorite race trails in Toblach next weekend…and it will be fun to race at a slightly lower altitude," shared Diggins.
Cendrine Brown led the Canadian women in 45th followed by Emily Nishikawa in 50th, American Sophie Caldwell in 52nd Dahria Beatty (Can) in 73rd and Katherine Stewart-Jones in 79th.
Results here.
WCup Standings here.