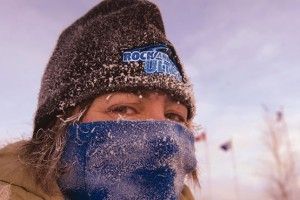 Mineral prospectors trudge across far northern Canada's expansive frozen landscape in search for geologic clues revealing the location of precious gold or diamond deposits. Only the heartiest and most adventurous souls are able to make frequent, arduous journeys on ski or snowshoe across endless miles of barren landscape for weeks, or even months, at a time. Winter night-time temperatures often dip down to -40°C, and these modern-day explorers must subsist on what little food and survival gear they tow behind them in pulks, or sleds, harnessed to their torsos.
Since 1991, Scott Smith, a former open-water marathon swimmer, mountaineer and adventure racer, has been one such mineral prospector, an exciting career that has taken him from the Canadian Arctic to West Africa's jungles. Educated as a mining engineer, Smith never relinquished exploration's globetrotting for a desk job. Rather, the tireless adventurer embarked on such ambitious projects as spending three months with a friend pioneering a new route across Greenland. Each man pulled a 250-pound pulk containing food and gear for their entire unsupported journey. Skiing for countless days along the world's sixth-largest landmass provided Smith the time and inspiration to dream up the BHP Billiton Rock and Ice Ultra, a unique winter foot and ski stage race.
Blending his two passions "the prospecting lifestyle with adventure racing's competitiveness" Smith created an expedition-style event designed to showcase the Canadian Northwest Territories' simple yet stunning landscape and indigenous culture. With local Dene chief Fred Sangris's blessing to traverse the culturally sensitive Akaitcho Territory surrounding the capital city of Yellowknife, competitors navigate ice-covered lakes and waterways on foot, ski and snowshoe in three distance events.
"This race is similar to what I do as a career, but instead of traveling to other countries, racers from around the world come to my home," said Smith.
An Icy Inception
On a frigid March morning under clear blue skies, approximately 75 athletes stomped and glided their way off the start line on Great Slave Lake. Most were taking part in the Cold Foot Classic 80km, a one-day solo or relay event. Only a few were attempting the expedition-length races, involving traveling 50 kilometres a day for three (K-Rock 160) or six (Diamond 300) days and spending nights at pre-set camps. Competitors in all three events were soon strung along the lake's frozen surface, which provided the cross-country skiers with a flat, fast ski track, but left runners and snowshoers floundering in deep, grainy snow.
"The key is to take it easy," said Shawne Kokelj, 42, a hydrologist from Yellowknife competing in the K-Rock 160 ski division. "I do a lot of field work here in winter, so I have a pretty good idea of how to deal with the cold. You need to stop and drink hot liquids, and remove or add layers as your body temperatures changes."
By mid-afternoon on Day One, conditions "warmed" to -17°C. The merciless cold sapped the racers' energy and caused a plethora of dehydration-related problems. "This is one of the most inhospitable places on earth — worse than Antarctica," said Mike Rarog, an emergency-response expert in charge of race safety. Rarog and his team of search-and-rescue experts tracked each racer's location and health day and night with military-like precision.
Despite Rarog's mandatory pre-race winter-survival seminar, many unaccustomed to the sub-Arctic conditions pulled out from the race at the Prelude West checkpoint. Frozen hydration hoses, frost-nipped toes and sweat-soaked clothing ended the race for two-thirds of the field after only 40 kilometres.
However, for the lead skier of the K-Rock 160, Philip Mees, 42, of Edmonton, Alta., the bright sunshine and fresh snow presented ideal conditions for an eight-hour day on his skis. Despite feeling flu-ey days before the race, Mees drew on his international loppet racing experience to maintain a strong, steady pace. "I'm approaching this as three back-to-back 50-kilometre loppets," he said. "It's hard to get good glide when it's this cold, so I am managing only half my usual race pace. But I just love the scenery and camaraderie of the other racers."
As the sun sank toward the frosty horizon, weary racers trickled into the Prelude East Camp, the first stage's terminus, grateful to rest in the comfort of a spacious, oil-heated canvas tent. Digging into pre-packed plastic bins containing food and warm clothes, they prepared a simple meal on tiny camp stoves before crawling into down-filled sleeping bags under cozy tepees.
Cold Foot Classic racers, however, had to bypass the camp's warmly glowing shelters and continue another 30 kilometres to their finish line at the Reid Lake Campground. As darkness enveloped the landscape, the single-day competitors continued under Northern Lights' shimmering glow, their solitary march through the silence broken periodically by a distant wolf's haunting howl. At 10:00pm, Yellowknifer Doug Townson finished first among only six solo cross-country skiers to complete the 80km race, while Yellowknife relay team, the Raucous Rockets, was the first of five teams to finish.
Desert Crossing
By the end of Day Three, a traditional Dene feast of bannock, grilled moose meat and trout welcomed the K-Rock 160 finishers to the Matrix Camp on Yellowknife Bay. The large, durable dome tents, complete with plywood floors, satellite phone and wireless Internet, are typically used by northern mining camps. However, on this occasion, they provided luxurious shelter for race supporters who donned heavy fur-lined parkas and giant sealskin mittens while dancing and tapping their mukluk-clad feet to Dene First Nations drummers' celebratory rhythm.
Mees glided across the finish line to easily win the solo ski division, followed a scant four minutes later by Damian Panayi, Yellowknife Multisport Club president in second place. Wearing only a loose-fitting fleece sweater over a thermal shirt and with icicles frozen to his goatee, Panayi credits his application of traditional Inuit wisdom for a successful race. "The Inuit appear lazy because they move slowly in the cold, but, in fact, they know that survival means avoiding sweating at all costs," he said. "When it's this cold, sweat freezes before it can evaporate, which is why I wear clothes that let the air flow through."
With the shorter races wrapped up, only five resilient souls remained in the final Diamond 300, including just one skier, 24-year-old Mike Scherman of Kanata, Ont. His coach, Ray Zahab, a race advisor for the BHP Billiton Rock and Ice Ultra, encouraged the Ironman Wisconsin Collegiate champion to enter at the last minute.
Always up for a challenge, Scherman, who had won the Yukon Arctic Ultra 100-mile foot race in February 2006, packed his bags and spontaneously headed north. "I enjoy mixing it up, doing all kind of races," said Scherman, whose next objective is the Hawaii Ironman in October. His only previous ski-racing experience was in the Keskinada Ski Loppet, near Ottawa, Ont., two years ago.
During the long days on the trail, Scherman often enjoyed the company of foot-and-snowshoe-category competitor Dave Mackey, a veteran adventure racer and runner from Boulder, Colo. They matched one another's pace except when Scherman struggled to cross the frequent rolling portages, during which his skis failed to find traction in the dry snow. His cumbersome 80-pound pulk, which pulled him backward on each small uphill slope, further slowed his already tedious progress.
Competitors spent the next two days completing a vast loop on Great Slave Lake's seemingly endless surface. The fifth-largest lake in the world, it receives as much annual precipitation as the Gobi Desert, giving the BHB Billiton Rock and Ice Ultra its reputation as the "other desert race."
When Stage Five concluded back in Yellowknife, it was clear who among the final competitors would win the foot/snowshoe and ski divisions, so race organizers reduced the final 50km stage to a 5km fun run through downtown.
"Locals were cheering and honking their car horns as we ran down Main Street," said Smith. "We even stopped at the Javaroma coffee shop as a checkpoint, where the townspeople had a chance to meet the racers."
The inaugural BHP Billiton Rock and Ice Ultra concluded with one of endurance racing's most unique prizes ceremonies: the winners of all three events were flown by small plane to the remote Ekati Diamond Mine north of Yellowknife. Mine president and CEO Sean Brennan awarded sparkling half-carat diamonds to Ewan Affleck and Mees, winners of the foot/snowshoe and ski divisions of the K-Rock 160, and one-carat rocks (valued at $11,500 each) to Mackey and Scherman as winners of the Diamond 300. Next year's diamond prizes are sure to lure even more skiers to make like mineral prospectors in this far-flung region of northern Canada.
Yellowknife, historically known for its extensive gold deposits and later for its diamonds, is now known for its overwhelming support of endurance racing. "Hopefully, the weather will be a bit nicer, too," said Smith. "This year was unseasonably cold, but usually it's around -10C this time of year."
Mo' Info
Next year's Rock and Ice Ultra will be held March 22-27, 2008. Visit www.rockandiceultra.com for more information.
For flights to the Northwest Territories, contact Canadian North Airlines, www.canadiannorth.com, 1-800-661-1505; or contact Northwest Territories Tourism www.explorenwt.com.