December 18, 2017 (Toblach, Italy) – Jessica Diggins (USA) claimed another strong result finishing 7th in the women's 10 km CL Pursuit race in Toblach, Italy on Sunday followed closely by her teammate Sadie Bjornsen in 9th.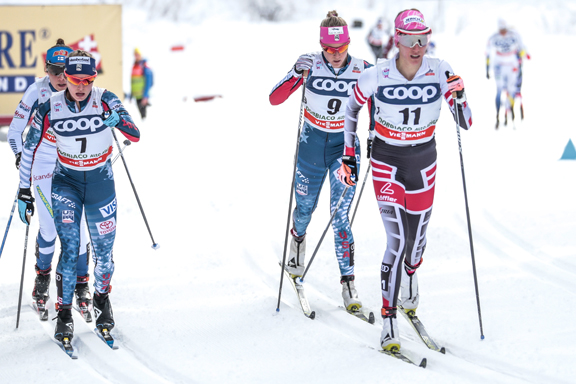 Marit Bjoergen (Nor) edged out her teammate Ingvild Flugstad Oestberg by a mere 0.3 second. Heidi Weng made it a super close all-Norwegian podium in third at 0.8s behind.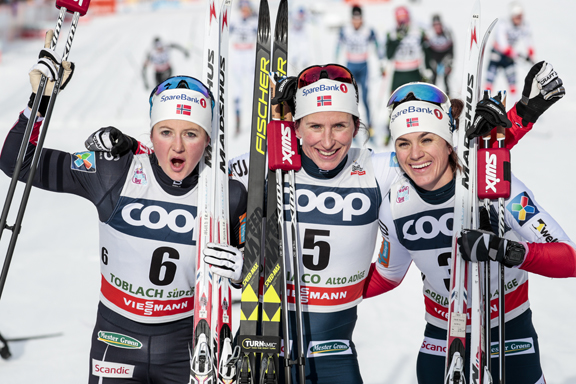 The USA's Rosie Brennan also landed in the points finishing 25th followed by Chelsea Holmes (USA) in 39th and Elizabeth Stephen (USA) in 48th. The top Canadian was Emily Nishikawa in 53rd.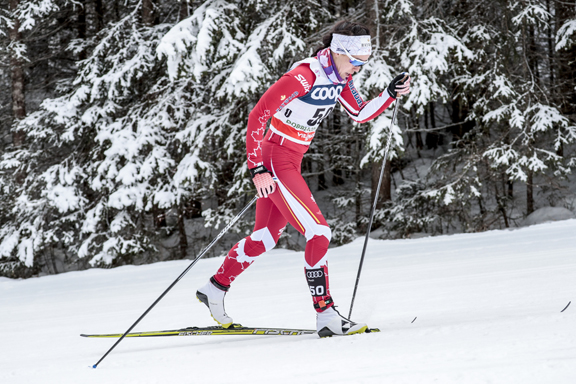 "Pursuit races are pretty fun – I love being in the hunt. I had an awesome pack of girls to ski with and everyone took turns pulling at the front so we were moving along at a good pace. I just love that feeling when everyone is still racing each other, but also working hard and taking their turn so that the pack is ripping along the course! The race felt like it flew by," said Diggins. "Big shoutout to our techs for having given us great skis today. That was really important on a course with so much glide but also some crucial climbs."
Bjornsen was also pleased with her top-10 result heading into the holiday break. "Exciting, and wild Day 2 of this weekend! It was a fun day of skiing, with a little different feeling than normal. It was kind of hard to feel strong and in control on that course, but I gave it my all, and was again happy with the finish.
"I can feel my brain needs some rest right now. Period 1 is an intense block, with a lot of travel, and a lot of excitement for me. I felt today that my mind and body were digging deep down for the final fumes in the tank… so I'm excited for some holiday time!
Great skis out there today, and super fun to ski with Jessie. I think we have some similar strengths, and also some opposite strengths, so we can almost work together both physically and mentally. Merry Christmas and thanks to everyone for following and cheering so far," shared the Alaska skier.