December 16, 2017 (Toblach, Italy) –  Jessie Diggins led the U.S. Ski Team with a seventh-place finish in the women's 10km FR at Toblach, Italy. Her teammate Sadie Bjornsen was also in the top 10 placing 9th as Sweden's Charlotte Kalla took the victory.
Norway's Ragnhild Haga took second place at 5.8 seconds behind Kalla as she picked up speed for a strong finish. Her teammate Heidi Weng settled for third at 13.8 seconds behind the winner despite leading at all of the intermediate timing points.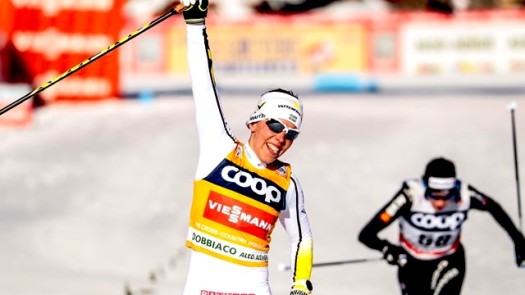 The USA's Rosie Brennan made it three in the points, finishing 17th. It was Diggins' third top-eight qualifying finish in Olympic events this season.
"It was an exciting start to the World Cup Weekend here in Toblach. This is a special venue for me, as I have had some of my best races here, and I had my very first career individual podium here last winter," said Bjornsen. "I'm excited to have finished in 9th, my career-best 10k skate result. As with last weekend, I think I have more to give, and more gears to find, but it is a great step for now! It will also put me in a really exciting position for tomorrows pursuit start 10k classic."
We caught up with Brennan as well for her take the day. "It was a perfect winter day in Toblach. It was a new course this year that featured a much steeper, longer climb in place of a few short climbs. It was a very challenging course to pace as the climbs were tough but there is also so much undulating terrain to and from that stadium that you also have to push.
"I spent a few too many beans on the second time up the larger climb and paid the price on my way back to the stadium, but am happy with the result and happy to have tried to see what I had in me. I feel really good about my fitness and am looking forward to a pursuit start tomorrow," she concluded.
Results here.