January 04, 2018 (Oberstdorf, Germany) – The USA's Jessie Diggins remains 3rd overall as Norway's Ingvild Flugstad Oestberg strengthened her grip on the leader's jersey following Stage 5 in Oberstdorf, Germany in challenging conditions.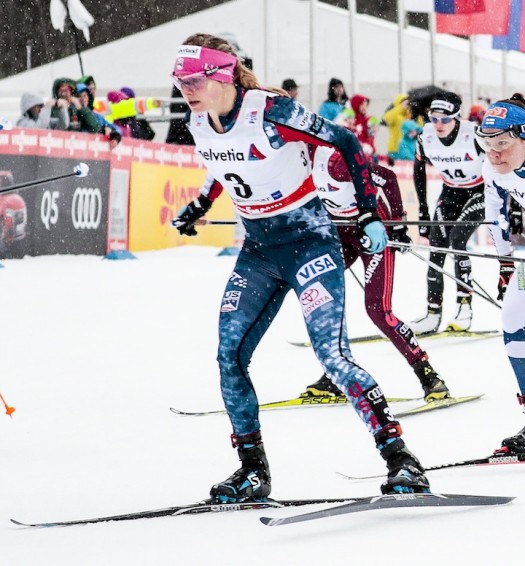 Oestberg took another victory winning the women's 10km mass start on a modified course due to yesterday's storm damage in Oberstdorf, and extended her lead over teammate Heidi Weng who crashed in the final 50 metres to finish 11th. Finland's Krista Parmakoski grabbed third and sits fourth overall, closing the gap to 12+ seconds behind Diggins who fell on the final downhill into the stadium placing 24th.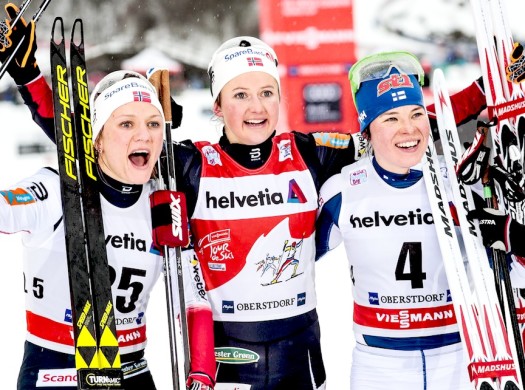 Diggins' teammate Sadie Bjornsen was 26th followed by Liz Stephen in 28th with Rosie Brennan out of the points in 36th. Bjornsen dropped to 7th overall while Stephen sits in 27th and Brennan is 33rd.
"Today was definitely a very different course than most due to the storm and trees falling down over the usual course! It was icy and flat, which meant that the pack stayed really tight together as there were no big climbs to break it up," said Diggins.
"Fortunately, I got into great position to sprint for the bonus seconds. Unfortunately, 200 meters from the finish I hit ice and crashed hard into the boards, spinning around and losing quite a bit of time and places. But that happens sometimes in racing and I shook it off. I had great skis and did the best I could today, and have a lot of energy left to fight as hard as I can in these last two stages."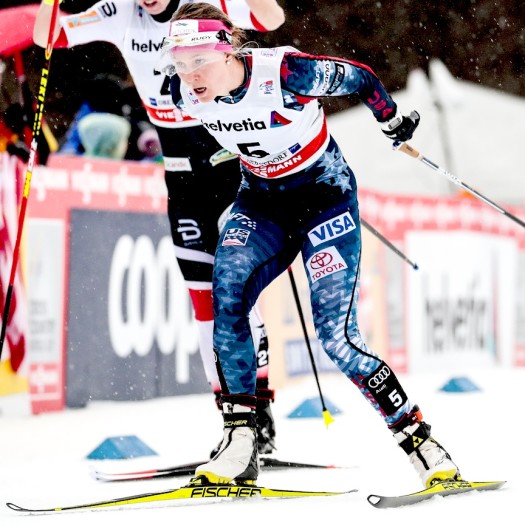 For Bjornsen it was another interesting day in Oberstdorf. "After the crazy weather, our course got changed to a small loop. With the salted course, it kept people pretty tight together, and was a challenging day to get an edge into the snow.
"I had a great first half of the race, but unfortunately slipped out right before the bonus, and fell down, on Lap 3. I managed to get passed by 20 people, and was pretty bummed. Now I'm really looking forward to some great classic skiing in the rain here in a couple days – let's see what I can do. The highlight of the day was controlling lap 2 alongside Jessie."
Competition continues on Saturday, January 6, in Val di Fiemme, Italy with the 10/15 km CL mass start races.
Full results here.
Overall standings here.