January 06, 2018 (Val di Fiemme, Italy) – American Jessie Diggins claimed a valiant 4th in the women's 10km classic mass start and is now fourth overall as Norway's Heidi Weng put in a dominant performance to close the gap to Tour leader, Ingvild Flugstad Oestberg, to a mere 1.8 seconds with one stage remaining.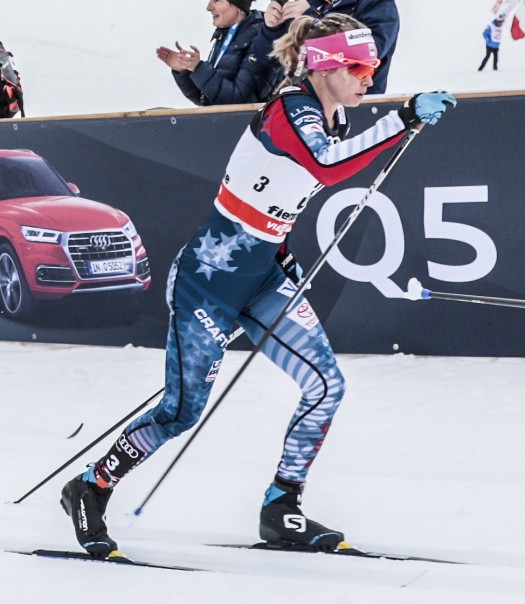 Finland's Krista Parmakoski took second behind Weng while Austria's Teresa Stadlober in third earned her first ever World Cup podium. Diggins crossed the line in 4th for her second best classic race with Oestberg 5th.
Diggins' teammate Sadie Bjornsen was 10th followed by Liz Stephen in 24th with Rosie Brennan in the points in 30th. Bjornsen dropped another spot to 8th overall while Stephen moved up to 21st and Brennan also advanced to 26th.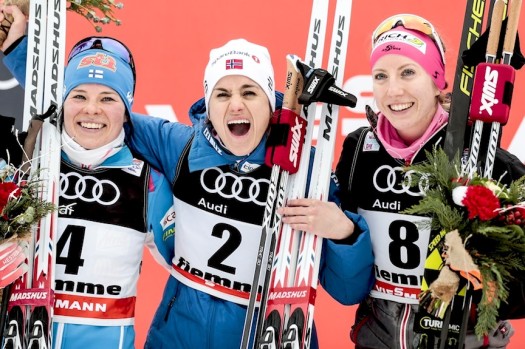 "I was really happy with my race today! It was so much fun to be in the lead pack for so long in a classic race and to be feeling this good after so much racing in the tour! My skis were also amazing – I have to give props to our techs for working so hard throughout this entire tour and getting up to the venue hours ahead of the race over and over again to help us out," said Diggins.
"In today's race I tried to stay near the front and out of trouble. With my luck I just wanted to avoid crashes or broken poles! I faded slightly in that last lap and could't go with Krista and Teresa but it was so fun to see exactly where the podium was since it's mass start and see where I can improve a little bit for the next time. Always learning and taking notes!
"In the overall tour, I'm really happy with my placing. To be starting 10 seconds behind Krista is awesome and I've been racing better than any other year, for sure. It's fun to feel strong in sprint and distance, classic and skate, and my goal for years has been to become a true all-rounder. It's fun to finally be getting there! Unfortunately, I'm not a natural-born climber, but I know how to suffer, I know how to be a fighter, and I'm going to go give that climb everything I've got left. And in the end, that's all you can do," she concluded.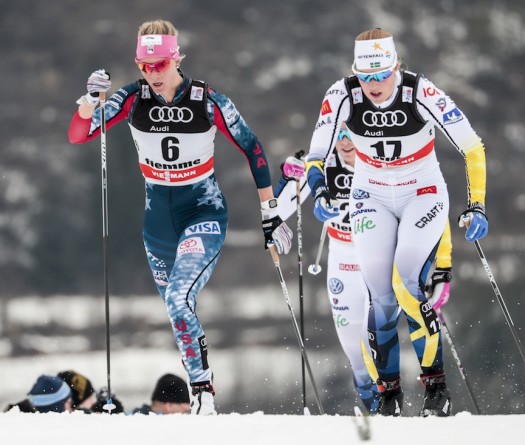 For Bjornsen it was one of those days where she found herself wanting a bit more. "After falling in the last race, I was determine to make up some time that I had lost in my overall tour position. I have been feeling really great on my classic skis, and felt like I had some power left in my legs this morning, so my goal was to just go with the leaders as long as possible.
"Unfortunately, I had a bit of a tough start, and made some tactical errors that left me pretty far back in the pack on the first lap. Then, once I was finally finding position again, I got trampled over, and fell. Once again, I fought my way back to the front after getting stuck behind some traffic, but just burned a few too many jets getting yo-yo'd around today.
"At this stage in the tour, when things go great, you can convince yourself you are invincible. When you get rattled a bit, it takes an extra amount of mental power to fight back to where you want, and I think that is what got me today. My race today still puts me in a place to fight for top 10 in the overall, which is super exciting.
"Considering the swings of this TdS, I am thrilled to be fighting for top 10. I have never done that in a Tour event, so it is a good goal for me when I am pushing myself up that mountain tomorrow with every last bit of energy I have," Bjornsen told Trax.