February 12, 2017 (Hochfilzen, Austria) – The USA's Susan Dunklee battled back to finish 22nd in the women's 10km Pursuit at the IBU Worlds as Germany's Laura Dahlmeier defended her title while Darya Domracheva of Belarus served notice that she is back claiming the silver. The bronze medal went to Gabriela Koukalova (Cze) who rebounded after some issues with her rifle on the opening prone session on the range.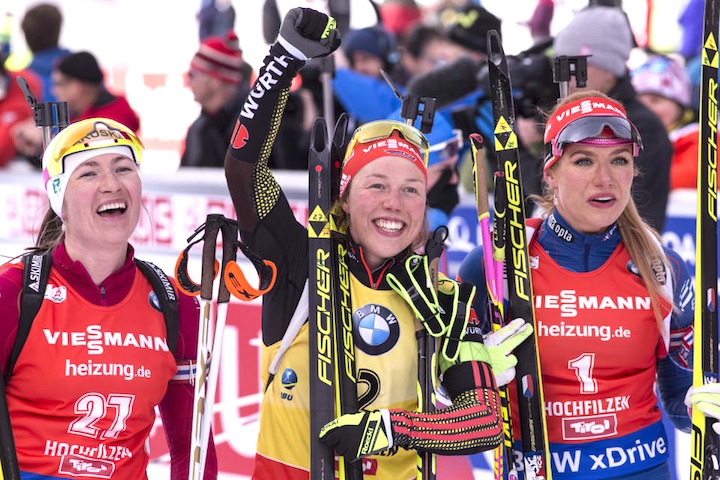 Dahlmeier now has three medals at these championships along with her Pursuit gold she won gold in the Mixed Relay and silver in the Sprint. "I'm very happy about the three medals – it's really like a dream, two gold medals and one silver," she said in a press conference.
Although she is no stranger to success at world championships, Domracheva came into these races after taking the 2015-2016 season completely off, as well as some additional time off to have her first child. Her first World Cup was this January and today, she overcame a staggering 1:25.6 deficit after finishing 27th in Saturday's 7.5km Sprint, to claim silver.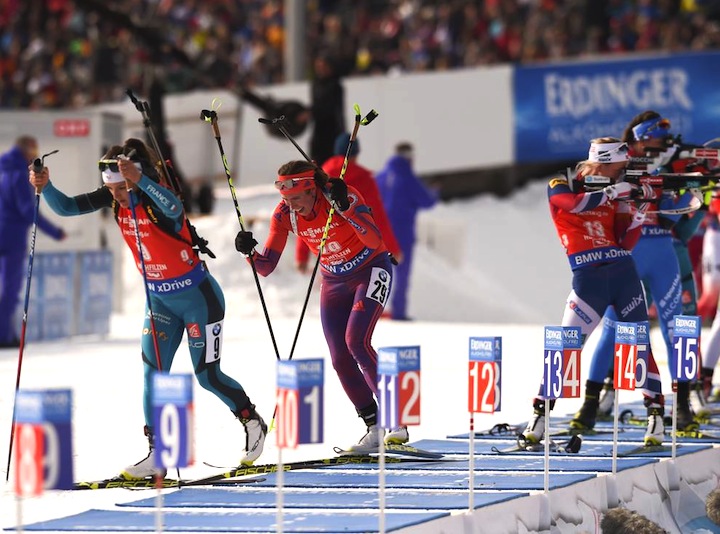 The top-60 athletes from Friday's 7.5km Sprint race skied five times around the 2km loop starting at staggered intervals based on their finishing time from the Sprint. Dunklee finished 29th in Friday's Sprint – in what proved to be a tough day for her – but skied and shot well through the early stages of the Pursuit today to move into the top-15 more than halfway through the race.
She had one miss in the first prone stage, cleaned in the second prone, and missed one more shot in the first standing stage. At that point she was in good position to hunt for a top-10. The first loop was a blast, tucking in behind Justine [Braisaz] and Darya [Domracheva], just trying to relax," she said. Things fell apart in the range in the last standing stage, however, as Dunklee missed two more shots. She battled through the last lap, ultimately finishing in 22nd, 1:44.7 back.
Four North American qualified to move onto today's pursuit, led by Clare Egan's 20th place finish in the Sprint. Egan shot well today (1+0+2+0), but struggled with tired legs for a 41st place finish, 3:01.3 back. "…my shooting today, I'm happy with that. I hoped that I would not have moved back 21 places with solid shooting, but I think there must've been a lot of good shooting today. Mostly the issue was my skiing today. I didn't have what it takes to move up."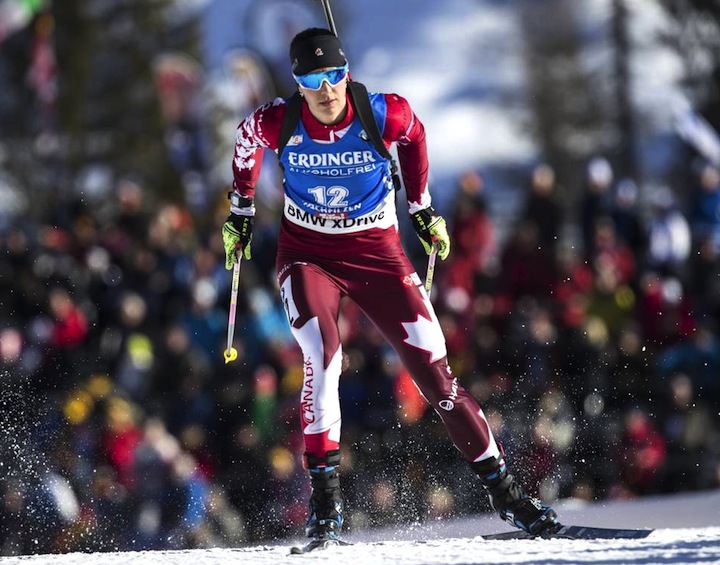 Rosanna Crawford was the lone Canuck starting the Pursuit in 26th position after a solid Sprint race. Her shooting was decent, with a single miss in each prone stage, and one more miss in the final standing stage, but she couldn't find her old ski speed, and finished in 43rd, 3:04.3 back. "I'm just so frustrated, the sprint felt like almost getting closer to normal. Then today again, I just couldn't move. I couldn't stay with anyone around me." A year ago, Crawford didn't have a single result worse than 29th in all of World Championships, but has not felt good all of 2017. She hopes that her form will return for the rest of these championships.
Joanne Reid of the USA had a great day on the range, in her second ever World Championships race. Reid had only one miss in the final standing stage, and moved up throughout the race from 49th at the start to 38th across the line, 2:37.3 back. Reid shot slowly and deliberately, "It's been a little tricky for me, just because I am still learning wind…this range is really susceptible to wind. A little woosh and the wind flags…it's just a lot of clicks." Reid's slow shooting paid off for her today.
Results here.