January 7, 2016 (Houghton, Michigan) – Former Birkie winner, Tad Elliott of the Vail Ski and Snowboard Club, attacked with five kilometers to go to take the win at the finish of the 2016 US Nationals men's 30km Freestyle race by ten seconds over Brian Gregg of Team Gregg/Madshus. Canada's Michaell Somppi of NDC Thunder Bay claimed the final podium spot in third.
"I felt incredible during the race, I think its one of those feelings when your skis are that quick and things are going well for you, you start to believe that you can win," said Elliott. "Things become a little easier for you and you start to believe it, it makes the suffering quite a bit better."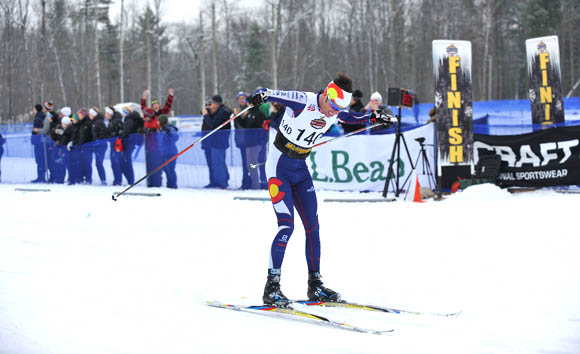 Pre-race favorites Scott Patterson (APU) and Kevin Sandau (AWAC) finished fifth and seventh respectively. It was Elliott's first national title since 2012, when he won the 30km individual start at Nationals in Rumford, ME. "It's cool to see Tad win," said second-place finisher Gregg, "I'm a big fan of watching an athlete who has found success and then comes back and finds success again."
Elliott, who has struggled over the past few years with health issues that have sent him to the emergency room on multiple occasions, made his move with five kilometers to the finish and held the gap to the end. Gregg, with his second-place finish, punched his ticket to the Ski Tour Canada World Cups as the second-ranked distance skier in the Supertour.
"That's a dream the two of us have had for a long time," he said, referring to his chance to ski with his wife, Caitlin on the World Cup, "I'm excited to have those starts and it's one of the first times I've had eight World Cup starts coming up and I feel like I can prepare for those. It's really cool they have the qualification earlier this time."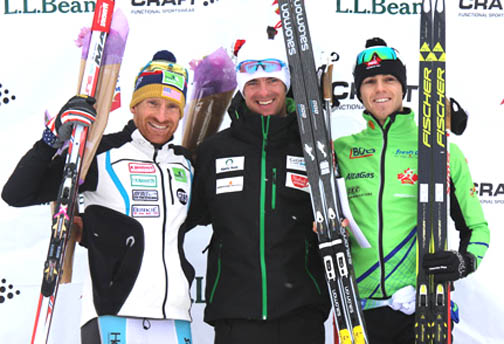 Like Gregg, Canadian Michael Somppi tried to conserve energy early on and respond to any attacks. The course featured three laps of ten kilometers, of which the first five were generally downhill, while the second were gradual uphill. Racers noted that this layout made it difficult to break away. "I didn't push the pace just stayed in a good position in top five," said Somppi, "I just waited for someone to make a move in that back section. From about three to seven kilometers, because it's so roll-y, I figured it was too hard to make a break." Video interview with Elliott courtesy of Mary Kozloski/CXC.
Scott Patterson, a pre-race favorite and the 15km winner, was disappointed with the outcome and had previously pointed to the 30km FR as a race that he had his eye on. "I think I was one of the strongest, if not the strongest skier out there today; however, sometimes things don't work according to plan," he said. "Our skis were a bit out of the game today."
Patterson, who has been having a back-and-forth battle with sprint specialist Reese Hanneman, also with APU, for the overall SuperTour lead, will have to try to earn some sprint points if he wants to stay in the mix with Hanneman, who is favored to win this Saturday's classic sprint which concludes the 2016 National Championships.
Full results HERE.