February 03, 2018 (Goms, SUI) – The USA wrapped up its most successful week ever at the FIS Junior Nordic World Championships taking silver in the 4x5km Men's Relay competition as the championships came to a close. The USA was just two seconds from the gold.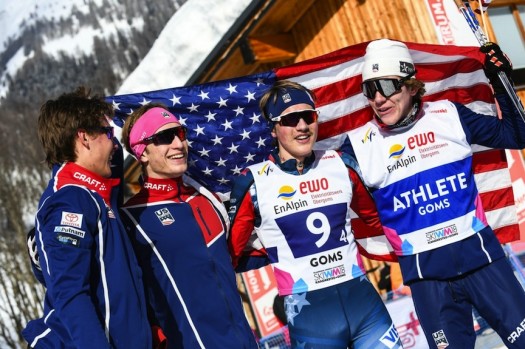 Luke Jager (Alaska Pacific Nordic Ski Center), Ben Ogden (Stratton Mountain School), Hunter Wondes (Alaska Pacific Nordic Ski Center) and Gus Schumacher (Alaska Winter Stars) combined to finish second in the relay just behind Norway with Russia in third. Team Canada's Antoine Cyr, Graham Ritchie, Felix Longpre and Etienne Hebert finished 11th.
In the women's 4×3.3 km relay the USA's Kathleen O'Connell, Hailey Swirbul, Margaret and Hannah Halvorsen finished 8th while Team Canada's Hannah Mehain, Natalie Hynes, Annika Richardson and Alexandra Racine placed 15th as the German squad were the surprise winners. Russia claimed the silver and Sweden the bronze.
It gave the USA three medals on the week along with Hailey Swirbul's (Univ. of Alaska-Anchorage) silver and bronze in individual events.