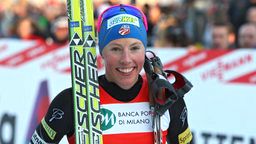 October 11, 2012 – USA's Kikkan Randall became the best sprinter on the ladies' side last season. The skier from Alaska talked to FIS Cross-Country News about her summer preparation, goals for the winter and her four-year term on the FIS Athletes' Commission.
You are coming to the end of your four-year term as the female representative for Cross-Country on the FIS Athletes' Commission. How has the experience been and would you like to continue for another four years?
Kikkan Randall: Yes, I have really enjoyed my time on the FIS Athletes' Commission representing Cross-Country. It has taken these four years to learn the ropes and get to know the people, and I have established some good paths of communication with the top levels of the cross-country committee. So I feel that can I continue to be effective and would enjoy doing this for another four years.
After having such a successful season last year taking the World Cup Overall Sprint title, what are your goals moving forward towards the 2012-13 World Cup season?
KR: Yeah, last year was certainly a lot of fun and I would like to continue to improve at both my sprint and distance results.
You have struggled with a foot injury this summer. Has that affected your off-season training?
KR: Unfortunately, I've had to slow down a little bit this summer after good training through mid-August, as it became clear that I had a stress fracture in my right foot. I've had to take the last month a little bit easier too give the foot some rest and avoid activities that aggravate it.
What are the activities that bothered the foot?
KR: Primarily, it was skate skiing. But for the past six weeks I have also not run, and only double-poled roller skiing.
Has that changed your approach to the start of the racing season?
KR: Normally I would have been looking forward to really coming in in good form with the opening races in Gallivare, and the mini-tour in Kuusamo, as well as the two sprints in Quebec. But I haven't been able to skate for six weeks now and it's still another couple of weeks before that becomes a possibility. Hopefully, I will be ready to participate in those races, but don't see my form coming around until the Tour de Ski.