November 24, 2017 (Ruka, Finland) – It may not have been the result Alex Harvey was looking for finishing in 21st place, but the top Canadian cross-country skier is exactly where he wants to be heading into the critical Olypmic season following a solid effort at the season-opening World Cup classic-ski sprint race in Ruka, Finland on Friday.
The St-Férréol-les-Neiges, Que. product advanced into the head-to-head heats with the top-30 qualifiers after posting the 13th fastest time through the fresh snow covering the 1.4-kilometre sprint course.
"It's a really good start. The qualifier I think was the second best I have ever done in my career here so I am really happy with that," said Harvey, whose previous best qualifier was ninth in Ruka. "Everything early in the season builds towards the Tour de Ski. These first set of races are a bit like training races for us. It is all about testing how you are feeling, how you are able to ski and the shape. The body is feeling good and strong so today was good confirmation of my summer training."
Harvey's day came to end in his quarter-final heat where he crossed the line fifth after a hard-fought effort up and down the steep hills and mellow flats on a course he describes as a pure sprinters track. The top-two athletes in each heat, along with the next two fastest times overall, move onto the next round.
"The course is quite short so the top sprinters don't get tired here," said the 29-year-old Harvey, who added he always lacks a bit of speed in the pre-Christmas block of racing. "In the heats I felt as good as the qualifier today, but I just made too many mistakes on positioning and choosing lanes. I didn't execute the way I wanted today."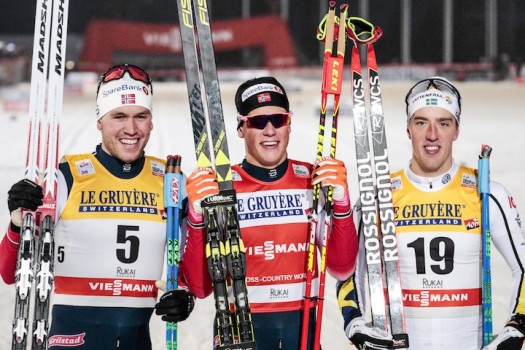 The Norwegians sprinted to the top-two spots on the podium. Johannes Hoesflot Klaebo captured the first gold medal of the season, Paal Golberg placed second. Sweden's Calle Halfvarsson rounded out the men's podium in third.
Six other Canadian men hit the start line for the first race of the season, but came up short in their bid to earn a spot in the heats. World Cup rookie, Julien Locke (Nelson, B.C.) was the next best qualifier in 59th; Len Valjas (Toronto) was 63rd; Knute Johnsgaard (Whitehorse) finished 73rd; Devon Kershaw (Sudbury, Ont.) was 74th; Graeme Killick (Fort McMurray, Alta.) was 85th; and Jesse Cockney (Canmore, Alta.) in 95th spot.
The World Cup continues on Saturday in Ruka, Finland with a women's and men's 10- and 15-kilometre classic-ski race.
Results
1.4 km Sprint C
1. Johannes Hoesflot Klaebo (NOR) 2:48.19
2. Paal Golberg (NOR) 1.35
3. Calle Halfvarsson (SWE) 4.03
4. Ristomatti Hakola (FIN) 5.65
5. Federico Pellegrino (ITA) 8.87
6. Sondre Turvoll Fossli (NOR) 17.31
Complete RESULTS
Qualifications here
Final results here
Mini Tour Standings – After Day 1
1. Johannes Hoesflot Klaebo (NOR) 2:49.5
2. Paal Golberg (NOR) 6.0
3. Ristomatti Hakola (FIN) 9.3
4. Federico Pellegrino (ITA) 10.6
5. Calle Halfvarsson (SWE) 13.4
Complete STANDINGS