December 12, 2015 (Sovereign Lake, B.C.) – The Haywood NorAm series moved to Sovereign Lake, B.C. this weekend and today's races were skate sprints, presented by Buff Canada. The early season NorAms count towards European B Tour qualifying, for up to four women and two men born in 1991 and after, as well as Haywood NorAm overall leaders status. The NorAm leader status can potentially gain the skier entry into the January FIS World Cups.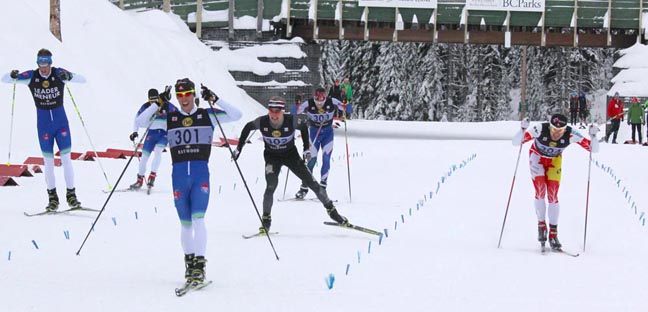 Based on results last weekend in Canmore, Knute Johnsgaard and Dahria Beatty of Whitehorse, Katherine Stewart-Jones of Nakkertok and Cendrine Browne of Fondeurs-Laurentides look to be set to qualify for the European B Tour experience.
On Sunday (Dec.13) one male and one female, born in 1998-2000, will qualify for the 2016 Youth Olympic Games, (YOG) in Lillehammer, Norway.  Trip Selection Details
At present, home club skier, Hannah Mehain, has the edge in YOG qualifying after the first race in Canmore, with Annika Richardson of Hollyburn still in close contention. On the boys side it appears to be neck-and-neck between Antoine Laforte of Skibec and Manitoba's Levi Nadler-Smith of Downtown Nordic.
Saturday's ski conditions were slightly colder than yesterday with temperatures of -4 C. and firm hard packed tracks. It was overcast in the morning with most athletes finding the conditions very fast in the qualifiers. A large contingent of U.S. skiers from the Eastern clubs of Dartmouth and Stratton Mountain and Bridger were a good addition to the depth of competition.
In the morning qualifiers it was Rocky Mountain Racer's Maya Macissac-Jones setting the standard at two seconds ahead of Olivia Bouffard-Nesbitt of Fondeurs-Laurentides. The top junior qualifier was Mia Serratore of Big Thunder Nordic.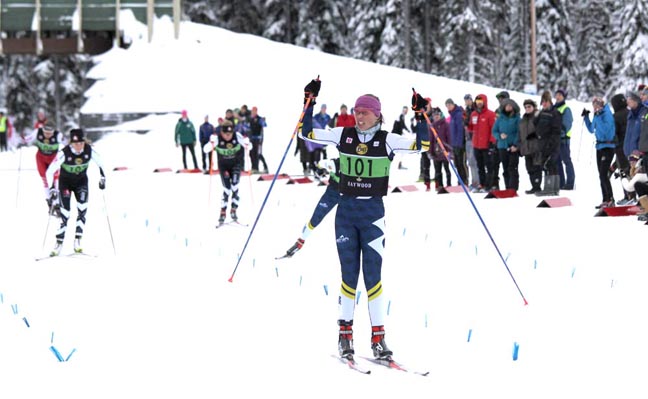 On the men's side Andy Shields of Lappe Nordic set the pace in a tight qualifier, with a 0.4 second margin over Johnsgaard. Russell Kennedy of Canmore was less than a 0.5 seconds back in 3rd.
In the junior men's race Olivier Hamel was the top qualifier.
In the Junior Women's heats it was the Big Thunder duo of  Sadie White and Mia Serratore that were setting the pace. They were a close 1-2 in the first semi-final just ahead of Delphine Duvernay Tardif of Montériski.
It was White who came through with a comfortable 3-second win in the final as Serratore and Tardif finished in the same order as the semi, separated only by 3/10ths of a second. A trio of U.S. skiers were next, with Lydia Blanchet of Dartmouth, just missing the podium.
In the Senior Women's heats it was Rocky Mountain Racer's, Maya Macissac-Jones and Andrea Dupont that set the pace, winning their respective semi-finals.
In the final it was top qualifier, Macissac-Jones, that came through in first, two seconds ahead of Dupont, who edged Marie Corriveau of Mont Ste. Anne at the line.
Today's result moves Macissac-Jones into strong contention for a spot on the B Tour. Sunday's races will complete the qualifying selection period.
In the junior men's final Olivier Hamel continued where he left off, in winning the qualifier, finishing first in each heat and capturing the win by a 4-second margin. Julian Smith of Georgian Bay, narrowly beat Eric Byram of Canmore for 2nd.
The men's final was a bit of a different story as Andy Shields surged in front at the finish for the win, just a second ahead of Sebastien Boehmler-Dandurand of Canmore and Knute Johnsgaard. Bob Thompson of Team Hardwood, last week's Buff sprints winner was 4th at 0.2 seconds back.
Today's win moves Shields into contention for a spot on the B Tour, with Thompson, his Thunder Bay NDC teammate, close behind. Patrick Stewart-Jones of Nakkertok, who had been leading the rankings, is on the sidelines and not racing this weekend after picking up a cold at the Canmore events.