July 03, 2017 (Thunder Bay, ON) – Despite threatening weather and a little rain, the Canada 150 Rollerski Race went off without a hitch Saturday, July 1, as Thunder Bay hosted the second-ever sanctioned rollerski event in Canada. Intermittent heavy rain gave organizers, athletes and spectators an extra challenge, but the Thunder Bay community rallied around what was considered by all accounts to be a hugely successful race.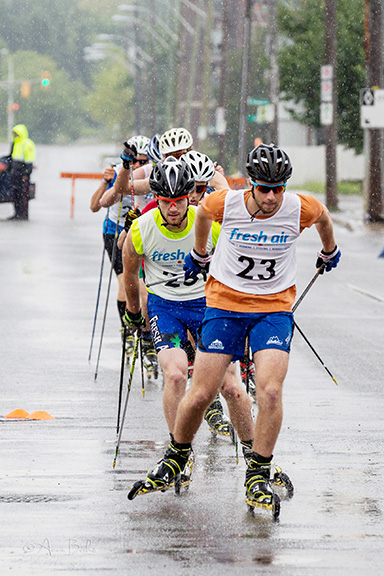 The closed streets of the downtown Port Arthur area saw a competitive field of top North American skiers compete in a double header format, with a sprint qualifier and mass start held in front of the Sleeping Giant on the Thunder Bay waterfront.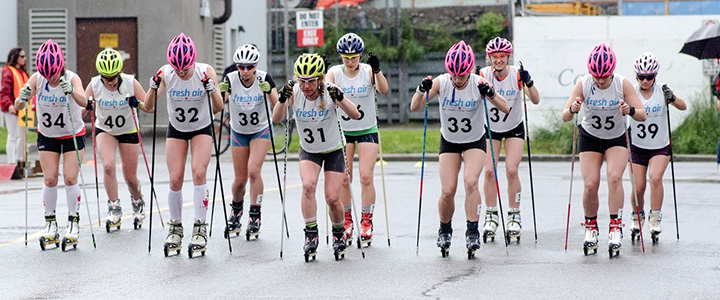 The unsettled weather meant both the athletes and the Canada Day spectators were constantly adjusting to the conditions, but it didn't dampen the enthusiasm of the racers or the spectators for the new event.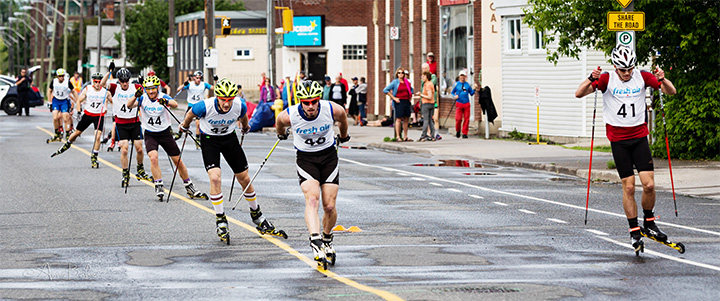 Organized by the Lakehead Superior Nordic Association, Big Thunder Nordic Ski Club, Lappe Nordic, and the Thunder Bay National Team Development Centre, the Canada 150 race included a field of top junior and senior athletes from across Canada, who are in the city taking part in a 10-day Cross Country Canada alignment training camp.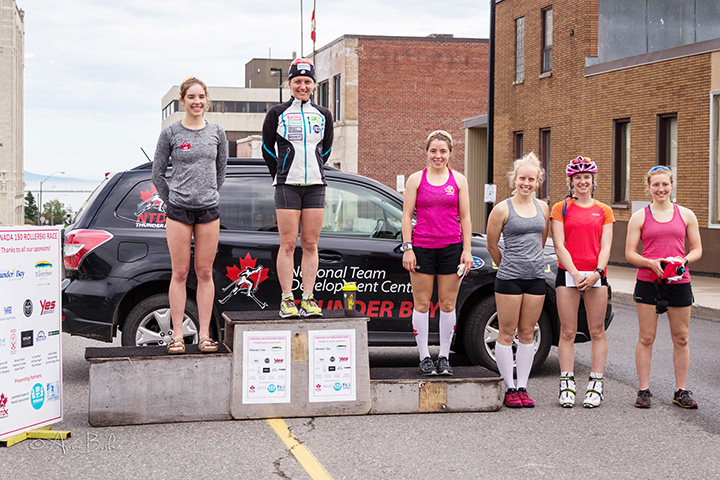 The field also featured American Olympians Brian and Caitlin Gregg, who made the trip up from the Twin City area to join the camp. With great support from the City of Thunder Bay, the Waterfront District BIA and the local business community, the event was a success at bringing the excitement of Nordic skiing to a new downtown audience.
Racers had plenty to work hard for in the sprint qualifier, mass starts and bonus sprint primes, with over $3,000 in cash and prizes making it one of the biggest ever prize pools for a North American rollerski event.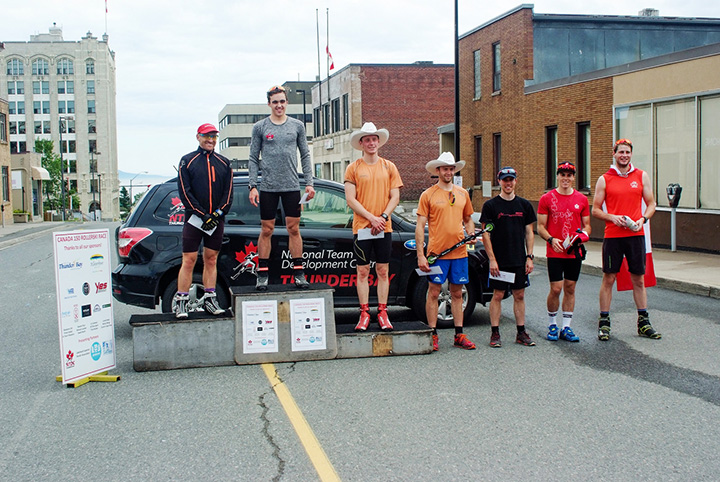 Hometown favorite Evan Palmer-Charrette (NTDC TBay) and 2015 World Championship medalist Caitlin Gregg (Team Gregg/Madshus) took the wins in the 1.5km sprint qualifier, with Gregg skiing to a nearly 10-second win on the women's side. Julian Smith (NTDC Thunder Bay) and Jack Carlyle (Alpine Insurance Alberta World Cup Academy) claimed 2nd and 3rd respectively for the men, with Annika Richardson (NTDC Thunder Bay) and Sadie White (NTDC Thunder Bay) rounding out the women's qualifier podium.
Palmer-Charrette also took home the big prize money in the Elite Men's Mass Start, narrowly edging out Brian Gregg (Team Gregg/Madshus) in second and Jack Carlyle in 3rd on the finishing straight. In the Elite Women's Mass Start race, Caitlin Gregg followed up her dominating qualifier performance, winning the race by more than a minute. Annika Richardson and Katherine Stewart Jones (NTDC TBay) finished in second and third respectively.
Other winners included Larkin Wasmuth in Group A Men (Capital Region Training Group), Thomas Manktelow (AIAWCA) in Group B Men and Aleksi Luoma (Big Thunder Nordic Ski Club) in Group C Men.
For full results see: