January 09, 2013 (Canmore, AB) – Rosanna Crawford, the 24-year-old biathlete from Canmore, Alberta has had the most successful world cup start of her career thus far, regularly finishing in the top 30 and just out of the top ten at the Pokljuka World Cup Sprint with a career-high 12th-place finish.  SkiTrax caught up with Crawford as she prepared to return to Europe for the next rounds of World Cup racing and the World Championships to talk about her breakout season, how she spent the holiday break, and what she expects for the rest of the season.
How satisfied are you with your performance for the first part of the season?
Rosanna Crawford: I am really happy with how the start of the season went. My goal had been to get a couple top 30's but after Sweden to be making top-30 every race and getting a top-12 was pretty exciting.
Has your skiing been what you expected?  How about your shooting?
RC: My skiing has improved a lot since last year and I am happy with how things are shaping up. I usually get faster as the season goes on. Shooting has been better than last year but still not where I want it to be. I think my shooting average is 81% and to be around 86% or 87% would be ideal for me.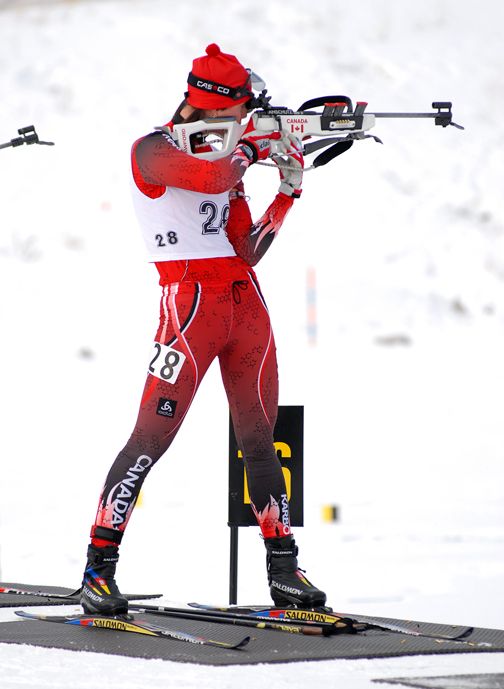 What have you been up to since the last World Cup in Pokljuka, Slovenia?
RC: Since I got home I spent some time with my family and boyfriend and enjoyed the amazing Canmore Nordic Centre. Brendan [Green] and I also spent two nights up at Mt. Engadine lodge up the Spray Valley, which was incredible! It got pretty cold here over Christmas, so there was a lot of -25 classic skis!
What do you want to improve on during this next block of World Cup racing?
RC: For this next block of racing I would like to improve my shooting percentage in the four-bout races. And keep working on consistent loop times.
What are your expectations heading into the World Championships in Nove Mesto?
RC: For World Champs right now I am focusing on what I can control, trying not to think too much about results, but the process of biathlon. I think a good goal would be top 30's and shooting average of 85%. I didn't attend the World Cup race there last year, but it was tough shooting conditions – really windy and foggy. I'm flying over on Sunday and our first race will be the relay in Ruhpolding on Wednesday!
Good luck in the rest of your season.
RC: Cheers.