December 02, 2016 (Ruka, Finland) – Canada's Bob Thompson, 25, from Woodstock, Ont.20, with the National Development Centre in Thunder Bay, won the final spot on the World Cup team for Period 1 at the Frozen Thunder trials at Canmore, Alta., in early Nov. It's been Thompson goal for almost a year to claim the berth and this is his first European World Cup experience. We caught up with him following his debut in Ruka for his take on racing at this level for the first time.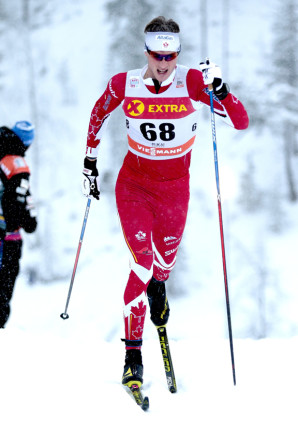 How are you feeling as the season gets underway?
Bob Thompson: I am definitely feeling good, I had the strong performances on the Frozen Thunder qualification races which was one of the main focuses of the year and opened the door for the World Cup starts. Now all my focus is on continuing the strong feeling and getting the best possible results from my first European World Cups.
Please give us some background about your training during the off season.
BT: Had several solid camps in Montreal/Mont-Tremblant, Canmore, Alta. and Park City, Utah. I focused on building up my training through the year to allow for longer workouts at a more controlled training zone pace.
How did the Ruka sprint go on Saturday?
BT: My body felt good and I was ready to sprint. Breaking down the race I stuck to my plan a bit too strictly and missed out on chances to adapt to the softer snow, likely costing me a bit of time. I'm confident moving to Lillehammer and just need to remain focused on my plan but be a bit more relaxed and consider the conditions of the day and adjust accordingly.
Talk about the courses, conditions and your skis in both races at Ruka.
BT: My skis were solid and I was able to climb well and they felt very fast. With fresh snow overnight most of the tracks were scrubbed out by athletes jumping out and running which ended up being a faster tactic than staying in the tracks… which I also attempted.
Are you happy with your races/results?
BT: I came in expecting a bit better of a performance but feel I've broken down what went well and what I need to improve so I can make the next races even better.
What's the game plan going forward?
BT: I get to start the mini tour in Lillehammer this coming weekend so will have my main focus on the CL Sprint and getting a solid performance in, and then switch into distance mode which I initially didn't think I would get many chances at.
Thanks for your time and all the best this season.
BT: Thanks