November 27, 2016 (Ruka, Finland) – US XC Ski star Kikkan Randall and her husband Jeff Ellis, who is with FIS Cross-Country PR & Communications, celebrated the birth of their son Breck back in April. Randall returned to training and racing and we caught up with her after her first official World Cup race yesterday in Ruka… here's what "Mom" had to say.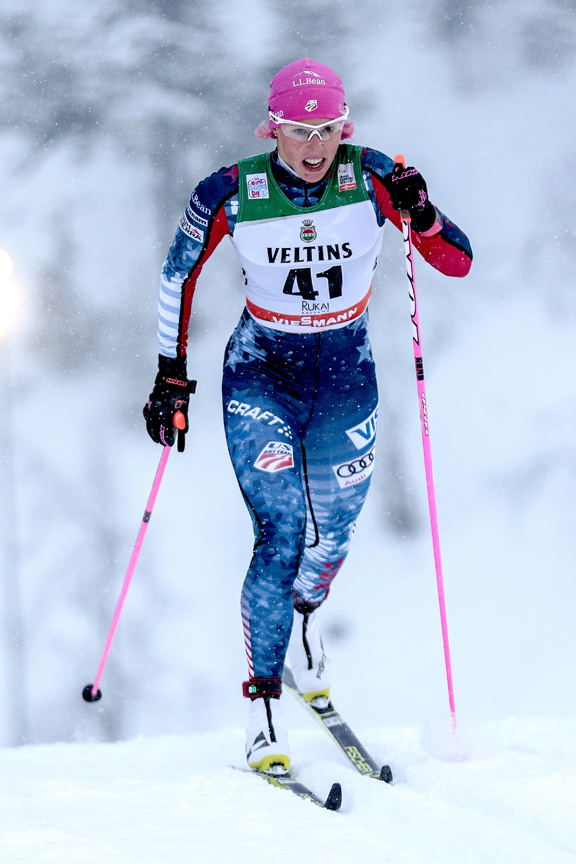 Hope all is well in Ruka… great to see 4 US women qualify.
Kikkan Randall: Yep, super awesome to see my teammates ski so well!
How did it feel to put on a WCup race bib again ?
KR: It felt great to put the bib on again and go through the whole routine of ski testing, warming up and running to the start.  Racing was fun as well although I didn't ski as well as I wanted today.
How are you feeling overall as a new season gets underway ?  
KR: I'm feeling good but anxious to start racing to get myself reacquainted with race efforts.  I've had a lot of good training but racing is still a special feeling and after a year away I feel like it's going to take some work to get into full race more again.
How nerve racking is it at the first World Cup ?
KR: I feel the right balance of nerves and familiarity.  It's great to be back in this scene, it feels comfortable and new all at the same time.
How are conditions there and the course – and your skis ?
KR: I think my skis were fine today but I just struggled technically.
The tracks look good but the climb looked heavy and tough.
KR: Conditions were awesome yesterday for our ski testing and race prep but today's conditions were a lot tougher with the new snow.  It was a real technical skiers' day.
What's the plan for tomorrow's 10km CL… ?  
KR: I have a feeling I might be in a better place for distance racing right now as I work my way back.  So I'm looking forward to the chance to test out my system and continue working on getting my feel back on snow.