March 17, 2011 – Lowell Bailey is a two-time Olympian, and the top-ranked US biathlete in this year's overall World Cup standings in 37th. The Lake Placid native is in the midst of a career-best year, which includes a personal best 9th place finish in the Fort Kent Mass Start, as well as a 12th place effort in the Antholz Sprints. He was also part of the team's historic 6th place relay finish at the IBU World Championships in Khanty-Mansiysk, Russia. The 29 year-old University of Vermont graduate has accrued four top-20 finishes so far this season with one final World Cup remaining in Oslo, Sweden. Bailey, who has been a member of the National team since 2001, talked to SkiTrax about this year's World Cup circuit, also touching on the direction he hopes to see US Biathlon take in building towards the 2014 Sochi Olympics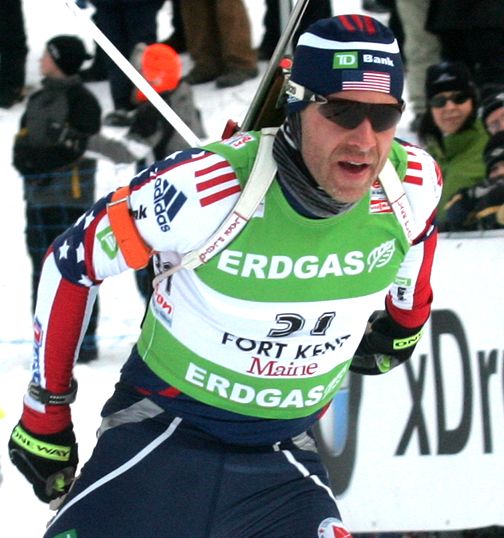 This has quite possibly been the best season of your World Cup career – what do you attribute your success to?
Lowell Bailey: It has been a good season so far. Perhaps the biggest change was that I was able to stay relatively healthy throughout the training and racing season. Last season, I was hit with Swine Flu at the beginning of the race season, and a mixture of other minor ailments throughout the year. Secondly, after last season, my coaches and I decided to make a few adjustments to my training plan. Generally speaking, I did more low-intensity endurance sessions at the beginning of the year and added more intensity later in the training season.
The US relay team finished 6th place at the IBU World Championships…what does this say about the future of US Biathlon?
LB: I think we've all known that we could perform at this level – it was just a matter of executing. It's a really important step for the team. We proved that we can compete with the best teams in the world. We were in medal contention throughout the entire race. With a few less extra rounds, we will be on the podium.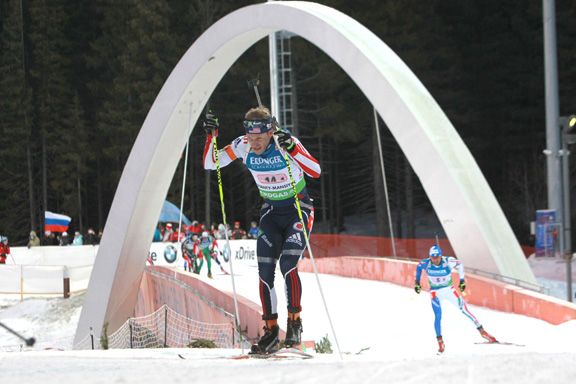 As a veteran on the US team, what advice have you given to the younger athletes such as Leif Nordgren, who has had a breakout season at the World Champs?
LB: Biathlon is such a competitive sport now. The level of competition is higher than I have ever seen it. As such, the difference between 10th and 60th place is often only a matter of one or two missed shots. In order to have success over the long term, you have to be patient. Simple as that.
Where do you hope to see US Biathlon by the 2014 Winter Olympics in Sochi?
LB: On the podium!
You're a two-time Olympian – what do you hope to accomplish that you haven't already?
LB: Simply put – to reach the World Cup podium.
How do you plan to achieve your goal?
LB: I want to improve my shooting consistency. I made a big step this year, but I also missed a lot of significant opportunities because of poor shooting – most notably, moving up to 18th midway through the World Champs Pursuit, only to fall back to 42nd after missing 6 targets over the last two shooting stages. Every athlete has good days and bad days on the shooting range. I want to do everything over the next three years to maximize those good days!
How long do you plan to stay in the sport of biathlon?
LB: Right now, my short-term focus is to finish the season on a high note at the WC final in Oslo. I am motivated for next year and Sochi is definitely in my sights. However, I've found that if I put too much focus on the distant future, I lose the grip on the present.
Thanks for your time and all the best in Oslo.
LB: Right