January 14, 2018 (Ruhpolding, GER) – We caught up with Canadian biathlete, Rosanna Crawford, following her milestone career-first podium taking 3rd in the women's 15km individual and her first 20/20 on the range.
Crawford tells us which one means more to her and the lead up to her record day in the sport at Ruhpolding, one of the mecca's of biathlon, where 25-30,000 screaming fans are on hand to urge you on, but also add immense pressure as well.
The national teamer since 2006 talks about her family ties and sister Chandra (Olympic gold medalist from Torino) her "rock", the sad loss of her brother Jordan this past spring and the importance of the bonds at home and with her boyfriend of 8 years, Brendan Green, also on the national team, to help get her to the start line.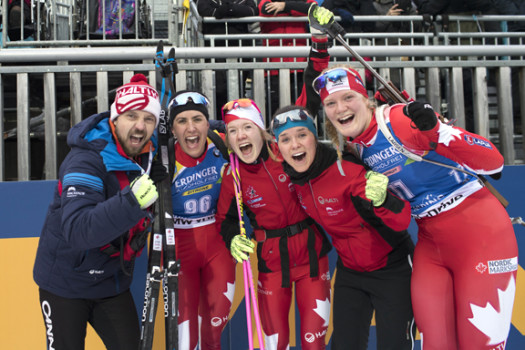 Her coaches Matthias Ahrens and Roddy Ward along with her teammates create a true "biathlon family" that is essential for such milestone days as Crawford had in Ruhpolding…
read
more on her record day here.