March 15, 2011 (Khanty-Mansiysk, Russia) – Sara Studebaker has had a breakout season during this year's World Cup circuit. The 2010 Olympian, who scored top-20 finishes at both the Presque Isle WCup and the IBU World Championships, entered the season as the top ranked US woman and the 26 year old has shown she's a force to be reckoned with.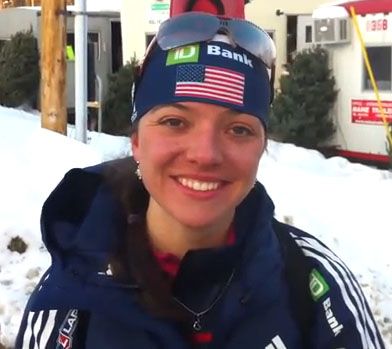 The Dartmouth College graduate, who has been training with the US Biathlon team since 2007, was the only US woman to qualify for the pursuit race at the 2010 Olympics in Vancouver, and has since been developing her skills towards what she hopes will produce top results in the coming seasons. SkiTrax caught up with the Boise, Idaho native at the IBU Worlds in Russia just before the final event, the women's relay, to talk about her success on this year's circuit, and what we can expect from her and the United States down the road.
You've had some impressive results this World Cup season including a 17th place finish in the Individual 15km at the IBU Worlds. What do you attribute your success to and has it changed your overall perspective?
Sara Studebaker: I think my success this year has been the result of several years of hard work and training. It takes time to develop as an athlete, and especially with biathlon you need experience at the high level before you can do well consistently. This year has been much more relaxed for me and I've felt comfortable competing at the World Cup level and I think that allowed me to really take a step forward. My successes haven't really changed my perspective so much as verified things for me. I always believed that with hard work I could be in the mix of things, and seeing how this year has gone just gives me confidence that I can get to that top level.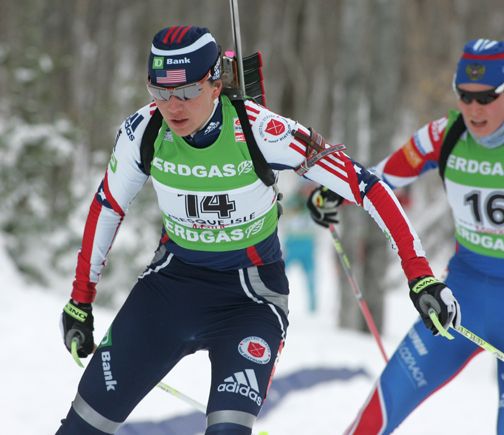 Nine of your career top 10 World Cup finishes have come this year – what's different this season?
SS: I think the atmosphere is just more relaxed for me. Of course, the stress of the Olympics was tough last year, but it was also my first season on the World Cup and it can be stressful just being in such a new and crazy situation all season. I think that after having a couple of good results, rather than feeling pressure, I felt confident that I could continue to perform. It's really been fun to see how all the training is paying off, and it makes me look forward to the next few years as we head towards Sochi.
With success do you feel more pressure to maintain a higher level of performance?
SS: Not right now. I think this year has been such a break-out season for me that it's just been more enjoyable to see my results and look forward to the next races. I hope that I'll always be able to have the perspective that keeps pressure off, but I know it will get tougher as I get better. For me, I just have to remember that this is biathlon, and anything can happen. You have great days and hopefully those days come more often – but even the best have bad days, and that's ok.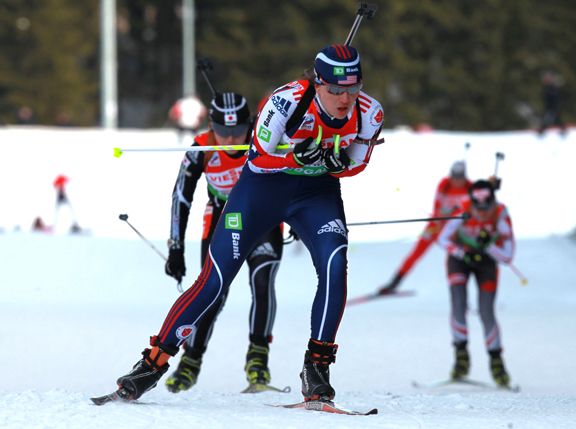 This is your first IBU World Championships – what were your expectations going in and have you achieved them so far?
SS: After the US World Cups I definitely had higher expectations for myself. I knew that if I had a good race I could be in the top 20. The sprint race was really a tough one for me, and I had to really focus and re-group after that [she placed 48th]. Having a decent pursuit [Studebaker finished 38th] and getting back into World Cup points was really good for me mentally and I was able to stay relaxed for the individual, despite the conditions, and have a great race. Even though I had hoped to do better in the sprint, having such a good Individual on such a tough day was really exciting for me and has certainly made my World Champs so far!
What do you expect from the US foursome at the upcoming relay event on Sunday?
SS: I think we have a really solid women's team and that we can have a great relay. We're not quite at the level yet where we can expect to do great all the time, but we're getting there and I think if we all have a decent day we can have a good result. Right now it's a lot about experience for us, and hopefully by Sochi we can be right in the mix of things. Of course it's really motivating to see the men's team have such a great result here [the US men finished 6th] – it really shows us what is possible!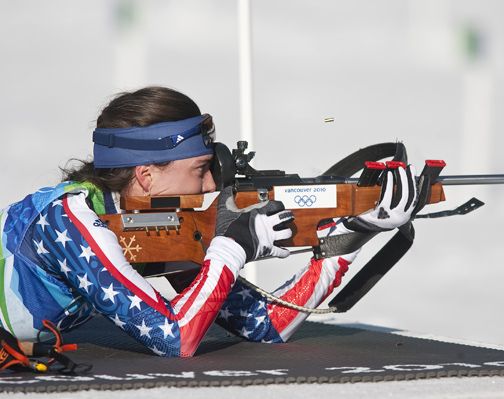 What do you hope to accomplish going forward after these World Championship races?
SS: This season in general has been an amazing learning experience. I got to race in my first World Cup Mass Start in Fort Kent, and being right in the mix of things in a few pursuits really gave me the opportunity to see the level of the women I'm chasing. I know I still have a lot of work to do before I can stand on that podium, but it's possible, and I'm really excited about that potential.
How far away do you think the US Biathlon team women are from medaling at a World Cup…?
SS: Our goal for sure is to be in contention in 2014. With several top-20 and top-30 finishes this year from our team I think we're not too far from that goal. It's definitely going to require a lot of work, but I think we're all motivated and excited to make that happen.
Thanks for your time, all the best on Sunday and good luck with the rest of the season.
SS: Thanks
The US Women's Relay team finished 14th overall out of 20 teams on Sunday – read more HERE.