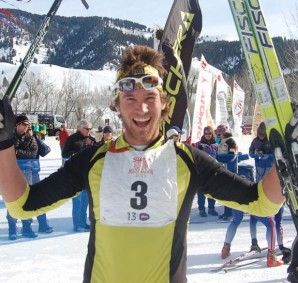 November 05, 2011 (Vail, CO) – If you don't know who Sylvan Ellefson is, you should. The 2009 Bates College graduate is making his case as one of the rising stars on the domestic US xc racing scene. An All-American in college, Ellefson has built on that success in his first two seasons as a full-time professional racer. He followed up several top-ten results at US Nationals with back-to-back wins at the Boulder Mountain Tour and the Owl Creek Chase, two of the largest and most competitive races in the United States. Ellefson also led the American squad in March in Slovenia with a 6th place in a 10km Classic OPA Cup. He races for Ski Club Vail and Team HomeGrown and
SkiTrax
caught up with him for the skivvy on this coming season…
Tell us about Team Homegrown and how it all got started.
Sylvan Ellefson: Team HomeGrown was an idea of my coaches and teammates, Dan Weiland, Karl Hochtl, and Kevin Hochtl. Vail had never produced a Nordic skier that could ski at the World Cup level until Kevin, but he was on his own training in Vail. It wasn't until 2009 when Josh Smith and I got out of college that everyone realized the talent all of us had and the potential here to make a mark on the
national/international Nordic skiing scene as individuals and a team from Vail, CO. We were all born and raised in Vail so the "HomeGrown" aspect of the team name was a given.
How is it connected to Ski Club Vail?
SE: Actually, Team HomeGrown is essentially Ski and Snowboard Club Vail's "elite" Nordic program. We train at all of the Ski and Snowboard Club Vail's facilities and they provide us with support year round.
You guys must have some tremendous resources available – do they open a loop early for you?
SE: They are awesome in terms of getting us early season snow. If it doesn't come sooner, we are basically guaranteed a 1km loop of snow to ski on by November 1st of every year. We just got a huge snow-making renovation and so as soon as the temperature hits 0C, the guns turn on and are making snow. We call it the gerbil loop because often at first it is small and you are just traveling in a circle, but it's still on-snow skiing. At this time of year it is a nice treat to get ready for the upcoming races.
How is SSCV connected to this new winter academy program in the valley?
SE: Ski and Snowboard Club Vail run the winter academy in Minturn, CO called the Vail Ski and Snowboard Academy (VSSA). VSSA has actually been around for quite awhile but hasn't had a permanent location like we do now. The school just moved to Minturn (about 10 minutes away form Vail) and is in the process of making its biggest transformation ever. The school has the largest number of students it has ever seen and the most success we have ever seen as well. Currently, we are finishing building 7.5km of trails right next to the school so it will be nice to be able to come to Minturn and train year round. VSSA is unique in the fact that it is a public school, so the education is free. The only required investment is the program fee. I'm actually quite excited to see what comes out of the academy in the next 10 years.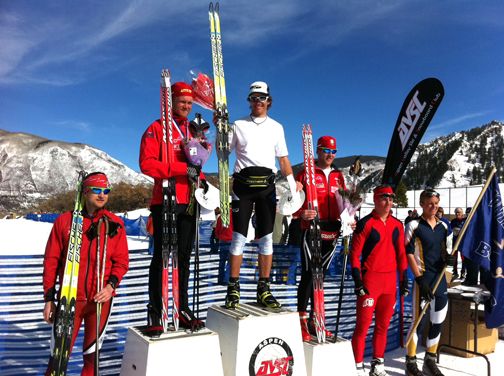 Changing gears a bit, where are you now and how is your last month of training going leading up to West Yellowstone?
SE: Right now I am in Vail just training and working away. Training this past month has been very focused and dialed. NCAA Champion, Sam Tarling, has been training with us in Vail and is a good inspiration for the kids here. Mike Vigers (Team HomeGrown) and Connor Wallace (NCAA skier) have also been great training partners to do some gnarly training sessions with. It's always nice to have someone to grit your teeth with. We have also been doing some fund raising for the upcoming season recently, with some pretty good success, I think. I am excited to get skiing though on our gerbil loop and then get to West Yellowstone for some racing. It is always tremendous skiing there.
You attended a couple USST camps, in Lake Placid and Park City. How have these camps helped your off season preparation?
SE: We had a camp in Lake Placid, NY followed by a camp in Park City, UT. The attendance of Elite athletes at this camp was great to push the intensity and focus of the group. These camps really help me on a personal level because I am able to surround myself with many Elite athletes trying to do the same thing I am – get faster, race faster, race more World Cups, race World Champs, race Olympics, win medals. There is the same incentive for everyone so I think being able to push the group as a whole is a great direction for me and for Nordic skiing in the US.
What your schedule for the season?
SE: I will be heading to West Yellowstone, then up to Bozeman and then to Canada for the first week of Nor-Ams up there and finally back home until US Nationals. After US Nationals, some races in Colorado, the Midwest, and then definitely heading over to Europe at some point to race OPA Cups or World Cups (based on my national results). Ending the season at SuperTour Finals in Craftsbury, VT, which should be a pretty fun event to end the season.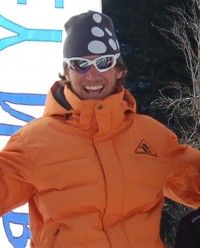 What are your goals for the season?
SE: Goals for me are pretty simple: I want to have some top-5 results at Nationals this year and keep skiing consistently hard and well on the SuperTour circuit, so I can give myself a chance of racing at a higher level on the international scene. If that doesn't work out I would like to win an OPA Cup race.
Long term goals?
SE: Sochi 2014
Thanks, Sylvan all the best this season and beyond.
SE: Thanks