March 10, 2011 (Khanty-Mansiysk, Russia) – Leif Nordgren of the US Biathlon team has had a pair of breakout races at the 2011 IBU World Championships in Khanty-Mansiysk, Russia. Placing 26th and 21st in the Sprint and Individual competitions respectively, the young American pulled off consecutive career bests on the most important stage of the Biathlon World Cup circuit. SkiTrax caught up with Nordgren to talk about everything biathlon, including his results, the team, and the future.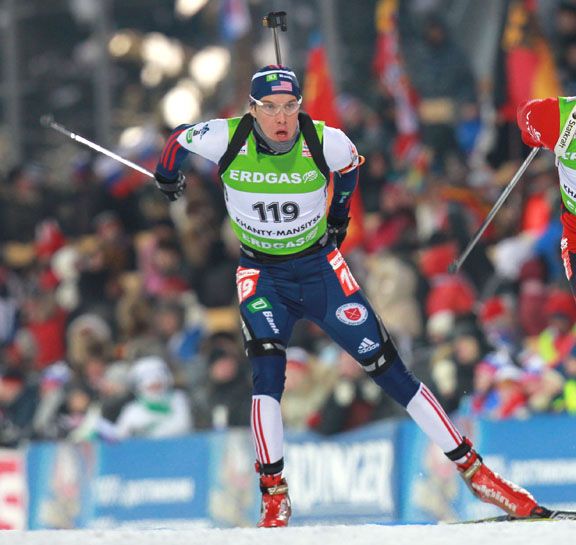 Congrats on your great result in 20km individual race – tell us how things unfolded and how your race went.
Leif Nordgren: This week has been pretty crazy. After my 26th place in the Sprint race, I thought for sure that was it, I wasn't going to get any higher. But I put a good race together in the Individual too so that was cool. My race was almost perfect – I had good enough skiing, I was just taking it easy behind Lars Berger for a few loops, and through the first three shooting stages I had hit all my targets. I was starting to get a little tired going into the last stage though, I got away with only one penalty. But it was definitely a fight for each shot.
You're in your first full year on the World Cup Circuit – what do you attribute to your fast development?
LN: I've been steered in a good direction by my coaches Per [Nillson] and Armin the last couple of years. I have great teammates like Tim [Burke] and Lowell [Bailey] to train with, they are 100% professional the way they go about their training. I've learned a lot of things just watching them, and they're always keen to give me any advice when I need it. But even with all that help, you still have to have a desire to work hard. I love training and improving myself, but when the good results come, it makes it a lot more fun to train even harder.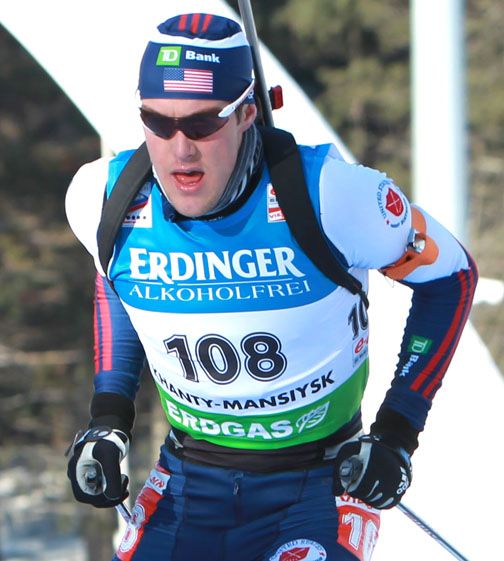 Your results at the IBU World Championships are your best by far this season. Did you make any changes or approach these races differently than the others?
LN: I think with me it's just a process. I've had a few good results this year, but I would always be eager for more. A little high strung maybe. I think I'm just now realizing there are a lot of things that it takes to put a good biathlon race together. I've seen those things here and there this season, but this week I've been able to combine them all.
Being the youngest member of the men's team, what kind of advice have you received from the veterans who have experienced every level?
LN: Most of the time if I have a bad race I will freak out about it and spend hours analyzing and searching the places where I can improve. Possibly the most important thing I've learned this year from the older guys is just to chill out… there will be more races, more opportunities. Of course it's good to look at your race and analyze your mistakes, but it's also smart to keep everything in its place.
With these great results have your expectations changed going forward…?
LN: No, not really. I've a had a few ok results yes, but for me there's still a long way to go – a lot of development and hard work that needs to take place. I don't want to just win a race and have that be the highlight of my career… I want to be at the top for a long time, to be consistent. That's the most important thing I think, consistency. It will still be a few years until I get to that level. And biathlon is only going to get more competitive, so who knows, I may never make it there. Perhaps it's more about the journey you take than the final outcome…
What do you hope to accomplish in your career in the sport of biathlon?
LN: To be the best and to inspire people the same way I've been inspired.
Good luck with the rest of the championships and this season.
LN: Thanks Clark!