November 29, 2016 (Ruka, Finland) – Canada's Dahria Beatty, 20, from Athabasca, Alta. and Cendrine Browne, 23, from St-Jérôme, Que. debuted at Ruka, Finland for the FIS XC World Cup Opener as the two rookies join veteran Emily Nishikawa (Whitehorse) as next generation skiers. Maya MacIsaac-Jones from Canmore, Alta., was supposed to join them but suffered a foot injury. Both Beatty and MacIsaac-Jones cracked the top-30 on the World Cup last year while racing on the Ski Tour Canada.
Dahria Beatty
How are you feeling as the season gets underway?
DB: I am excited to be racing again and looking forward to getting some more races in. This weekend was a good chance to get all the cobwebs out.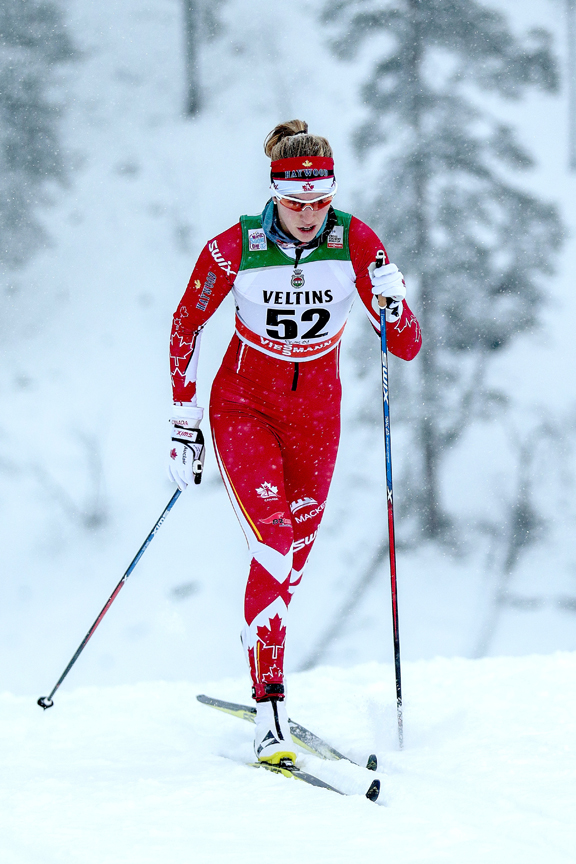 Please give us some background on your training during the off season.
DB: I train in Canmore with the Alberta World Cup Academy. I did two national alignment camps over the summer with the rest of the Canadian development centre women and one on-snow camp in New Zealand in August.
How did the Classic Sprint go on Saturday?
DB: The sprint went well, I felt good, especially in the double pole sections but had some trouble skiing the last climb well. Lots to learn for the next sprint.
Walk us thru the 10 km CL interval start race.
DB: The 10k classic today was a tough race for me… but I'm ready to refocus for next weekend in Lillehammer.
Talk about the courses, conditions and your skis in both races.
DB: The conditions were tricky for the sprint, lots of fresh snow but things firmed up for the distance race and we had great tracks and skis.
Are you happy with your races/results?
DB: I am happy with 1 of 2 this weekend which for me in a season opening weekend is pretty normal. Hopefully I can eliminate the small tactical mistakes I made in the sprint this weekend and move up the results list a bit for the opening of the Lillehammer mini tour next weekend in Norway.
What's the game plan going forward?
DB: I am planning to keep learning from each WC start and try to get stronger as December progresses. One of my big goals for the season is the Junior/U23 World Champs at the start of February so working towards being in the best shape possible for those.
Cendrine Browne
How are you feeling as the season gets underway?
CB: I feel in good shape and I'm super excited to be on the World Cup circuit. It is so great that CCC is giving us the opportunity to race on the World Cup. I think it's the only way we'll get faster!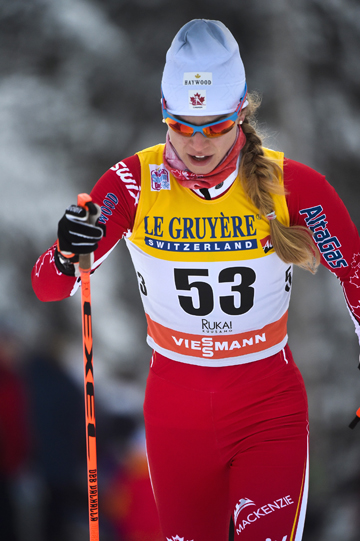 Tell us about how your training went during the off season.
CB: During the off season, I worked hard with Louis [Bouchard] so I hope it will pay off. I did three camps: one in Tremblant with the other training centers, one in Stratton with the US team and one in Park City. These three camp all went well. I didn't have any injuries so I was very lucky!
How did the Classic sprint opener on Sat. go in Ruka?
CB: I was disappointed but I have to remember that I trained for distance races this off-season so the sprint was just a race prep for today [Sunday]. Also the conditions were very hard and it took me off guard. We aren't used to skiing in those conditions but now, I know how. So it was a good experience for me.
Did your 10km CL race unfold as planned?
CB: Today, I wanted to feel good, ski relaxed and take good rides with faster girls. That's what happened. I had the chance to ski with Nicole Fessel (Ger), who was on her second lap as I was starting, and Sadie Bjornsen (USA), who was starting right begind me. Thanks to that, I had a fabulous first lap but I paid a little bit for it on the second lap… but at least I saw how fast I need to go if I want to be top 30!
Talk about the courses, conditions and your skis in both races.
CB: Skis yesterday [in the Sprint] weren't good for me. I had no grip at all… and wasn't confortable skiing in the horrible conditions we had. It had snowed all night and all morning and was still snowing during our race. The course was very short with two uphills and two downhills. The last uphill into the stadium in huge!
But today my skis were awesome. I had good grip and good glide and was able to be competitve with other skiers on flats and downhills. The course is really hard here, it goes up for 1.5km, drops down for another 1km and goes up for a long time, then goes down and up to the stadium. But I liked it.
Are you happy with your races/results?
CB: Today yes I am happy. Even if it isn't a top 30, I am close to a lot of amazing skiers. Also it is a very good start for me since it is super competitve here in Ruka.