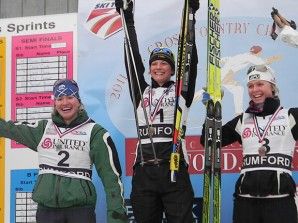 January 25, 2011 – One couldn't help but be impressed by the skiing of Afton, Minnesota's 19 year-old sensation, Jessie Diggins at the recent 2011 US Nationals in Rumford, Maine. Diggins, who went to Stillwater High School, told
SkiTrax
she was "really surprised and very thankful" for her strong races there. She's been very competitive with the junior fields in the US with five junior national titles to her name – and Diggins was featured last year in Sports Illustrated's
"Faces in the Crowd"
. But this year she stepped it up a few levels and has done more racing than before. Hence, some outstanding performances and a national sprint title – plus making the 2011 US XC Team heading to Oslo for the Worlds. Diggins graduated from high school last spring and is taking this year away from school to focus on skiing. She skis for the strong CXC Vertical Limit team and is excited about the upcoming races on the international playing field.
Before we talk about the US Nationals in Maine tell us about your personal skiing history…how did you get into the sport?
Jessie Diggins: I've been skiing ever since I could walk, and before that, I would be in my dad's backpack when he and my mom went skiing on weekends! I have a very active family that loves being outside and enjoying the trails, so ever since I was very young my family's been part of the Minnesota Youth Ski League. But my parents have never pushed me into anything; I used to do a ton of different sports and although they've always encouraged an active lifestyle, they never made me do a sport I didn't like and have always been supportive.
What did you find so captivating about cross-country skiing?
JD: I love cross-country because it's so fun being outside, traveling all over and getting to see new places and meeting new people. It's just such a healthy lifestyle! It's a sport I can practice throughout my life and enjoy with my family.
Your time in Rumford, was like "WOW" – did you think you would have such a week there?
JD: Definitely not! I was obviously hoping to have some good races, and I knew that I was healthy and had been training hard all year, but I never expected it to pay off so well! It was very exciting for me.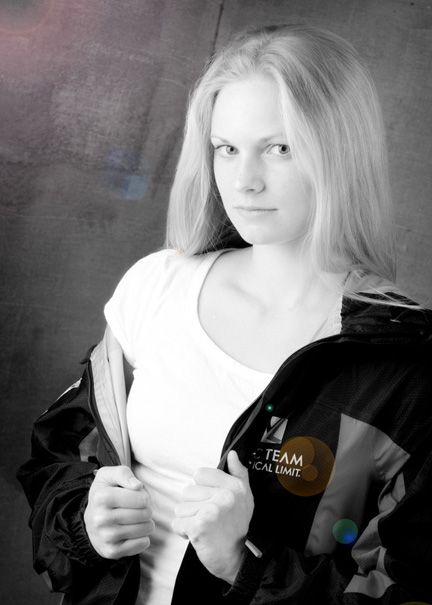 Describe what it means to be "on" with your skiing – on top of your game?
JD: It can be tricky because sometimes you're mentally there and ready to race but your body just isn't having a great day, or maybe you're fit and feeling good but your head just isn't in it. But for me, being "on" with my skiing means I'm ready to go and consistently putting 100% into a race, not just popping one good race now and then.
Did that week surprise you?
JD: Yes! It was a very nice surprise, one that's motivated me to train smart and try to keep the season rolling the same way it has been so far.
You're off to Oslo for the Nordic World Championships right?
JD: Yep, but first I'm headed to Estonia for Junior World Champs, and then to some Scandinavian races in Latvia and Estonia, before going to Norway for Worlds.
That's a lot to happen in one season?
JD: That's for sure – but I'm also making sure that I don't get overwhelmed with everything that's been going on this year; I want to stay in the present and enjoy every minute of it.
Tell us more about your CXC program, your coaches…it sure seems to be going strong.
JD: Oh my goodness, I could go on for so long about how wonderful the CXC program's been this year. It's been great having such a strong team to train with and learn from. Being the youngest on the team, I really look up to the older and more experienced skiers, and I feel like I learn something new every day. Usually it's the little things about being a professional athlete that I never really had to think about in high school, but now that I'm on the road more often it's important to be on top of stuff like hydration and packing food and dry clothes for every workout. And even though it's our first year with Jason Cork and Gus Kaeding as coaches, I feel like they've picked it up extremely fast and done an incredible job as both coaches and wax techs. I'm very impressed!
Looking down the pike, what would you like to accomplish with your skiing – what are your goals?
JD: I'd be pretty stoked on life if things just keep going they way they have been! Skiing's always been such a positive and motivating part of my life and my biggest goals are to simply keep it that way, and improve as a skier with both my technique and racing. If there's ever a day when I can't say I'm enjoying it, then I'll walk away from racing, but right now I see myself being a professional skier for as long as I can.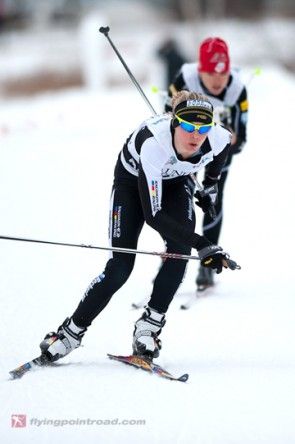 What other sports do you enjoy?
JD: A lot of things! When I was younger I used to play soccer, swim, do a lot of different events in track, and dance. I also like trail running and in the summer I get to do a lot of other sports mixed into my training. It keeps it fun.
Favorite subject in high school and why?
JD: Either English because I love to read, or Orchestra, because that class gave me such great experiences that I'll always remember, like performing in San Francisco or Chicago.
What's your idea of a perfect day?
JD: Oh man, I feel like I've had so many awesome days this year already! But my favorite probably involves doing a long over-distance run/hike in the mountains, preferably finding a lake to swim in after, and then just chilling out with friends. Luckily, this sort of day happens a lot when you're training all summer!
What is a motto that you try to live by?
JD: Stay in the present and love every minute of it!
Thanks for your time and good luck with the rest of the season.
JD: Thank you.