October 28, 2017 (Montreal, QC) – Performance driven Julbo eyewear is pleased to expand their support of Cross-Country Ski de fond Canada, adding specific support to grassroots programs and the coaching community, while continuing to help high performance athletes aim for the podium.
Julbo Canada & Cross Country Ski de fond Canada are proud to announce that Julbo has renewed their partnership as an Official Supplier of the Canadian National Ski Team, while adding specific support towards CCC's Skill Development Programs participants & licensed Canadian Coaches.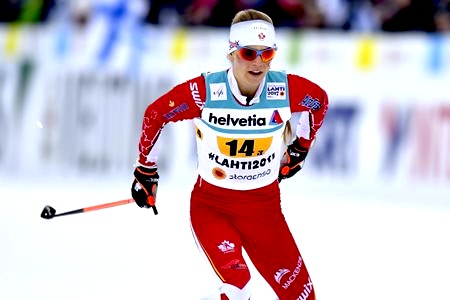 Canadian team athletes who compete at National and International levels will still have access to the unique technology and performance of Julbo's eyewear, in line with Julbo's performance goal of increasing visibility on the international scene leading up to the 2018 Winter Olympics in South Korea.
'The World Needs Your Vision'
As CCC's official supplier of Eyewear, the French performance brand will offer a generous 25% discount to CCC's Skill Development Programs' participants as well as a 40% discount to CCC licensed coaches, on specific models. For more information on how to take advantage of this offer, please visit CCC's website for Skill Development Programs & Coaching License.
"We are thrilled to have Julbo supporting Coaching and Athlete Development (CAD) with such great discounts on their products. With this targeted discount program, Julbo and CCC want to emphasize the importance of eye protection at all time and while cross country skiing, not just for adults but for young participants as well. Indeed, in addition to a wide range of adult models, Julbo also offers a wide variety of eyewear specifically designed for children. Thanks to Julbo, close to 20 000 of CCC's members will be able to purchase high quality sport eyewear at a very good price." Stéphane Barrette, CCC's director of CAD.
French based Julbo eyewear is distributed by Lanctot Ltd in Canada. Founded in 1888 and based in the Jura (France), Julbo is a well-established sports eyewear brand famous for its technical expertise. Julbo is following its own values and creative drive to become a global sunglasses and eyewear player.  All glasses have been designed with the help of outdoor specialists, mountain guides and enthusiasts.
CCC is the governing body of cross-country skiing in Canada, which is the nation's optimal winter sport and recreational activity with more than one million Canadians participating annually.  Its 55,000 members include athletes, coaches, officials and skiers of all ages and abilities, including those on Canada's National Ski Teams and Para-Nordic Ski Teams. With the support of its valued corporate partners – AltaGas, Mackenzie Investments, Haywood Securities Inc., Swix and Lanctôt Sports– along with the Government of Canada, Canadian Olympic Committee, Canadian Paralympic Committee, Own the Podium and B2ten, CCC develops Olympic, Paralympic and world champions. For more information on CCC, please visit us at www.cccski.com.