December 18, 2010 (Kananaskis Country, Alberta) – Last winter, we visited areas in Alberta, British Columbia, Quebec, Montana, Idaho and Colorado — an amazing assortment of ranches, resorts, backcountry lodges, regions — and even to two Canadian cities (Quebec City and Calgary). Every ski writer dreams of breaking an exclusive story on something or someone mind-boggling in our little world — an incredible new inn, a revolutionary equipment innovation, the first interview with someone who just took Olympic gold….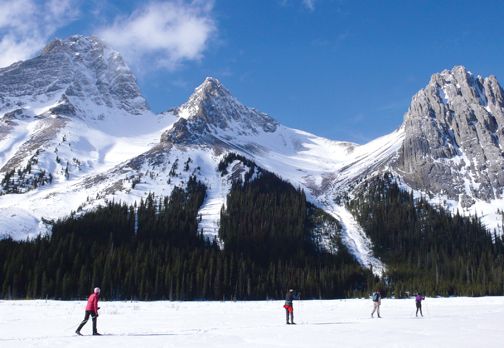 I've gotten a great kick out of writing a couple of stories like that, even if it's just temporary recognition, and now I'm stoked to be writing about an area where stellar groomed trails have been there for years, in fact, for a couple of decades. Yet this amazing site is still mostly a big black hole for many cross-country skiers if you're not from the Calgary, Alberta region, where this Nordic heaven is virtually in its backyard. I have to qualify the preceding sentence ("still mostly…") because Kananaskis Country (also known as "K-Country") includes the renowned Canmore Nordic Centre Provincial Park, home to the 1988 Olympic cross-country and biathlon trails. The Nordic Centre is one of the most famous cross-country operations in the world, especially in Elite racing circles, but it's really just a very prominent tip of the K-Country iceberg.
Who are Those Guys?
Kananaskis Country lies in the foothills and mountains west of Calgary. Run by the province of Alberta, it's a region that concentrates on recreation. It's immense (1,600 square miles/4,250 square kilometres), diverse and spectacular — a true mountain playground filled with streams, meadows and lakes, and much of it very wild indeed.
K-Country is partially composed of a series of provincial parks, and it's named after the Kananaskis River, which runs through it. More than half is protected from development, so you may see moose, elk, bighorn sheep, even cougar — but not encounter many people, especially compared to nearby Banff National Park. The rest of the land is multiple-use, from recreation to forestry, grazing and even petroleum exploration.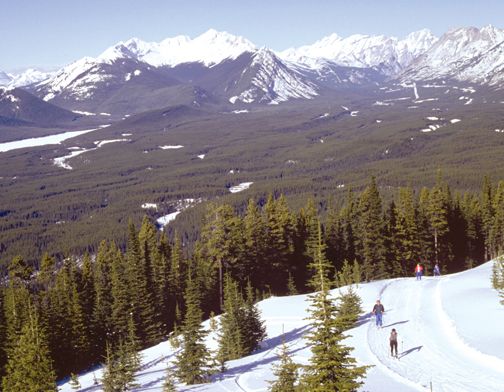 Winter visitors can go track and backcountry skiing, snowshoeing, mountaineering, snowmobiling, even downhill skiing at Nakiska Mountain Resort. There's no snowmobile access to groomed trails, and snowshoers are asked to stay to the side of cross-country routes or use separate trails. No dogs are permitted on the groomed ski trails, but they're welcome elsewhere.
Location, Location, Location
There's a huge variety of cross-country skiing in Kananaskis Country, starting with Canmore Nordic Centre Provincial Park (which is distinct from the nearby town of Canmore). The Centre has the region's most consistently groomed trails (more on this later). It's a spectacular one-and-a-half-hour drive from Calgary's International Airport via the Trans-Canada Highway and only 20 minutes southeast of the town of Banff.
Canmore is one of the two major winter access points to K-Country, along the Smith-Dorrien/Spray Trail (Road 742). The other access — the Kananaskis Trail (Route 40) — is even closer to Calgary, but not quite as convenient if you're in a hurry to get to extensive groomed trails.
There are other groomed trail concentrations in Spray Valley Provincial Park (Mount Shark), Peter Lougheed Provincial Park (approximately 75 kilometres), Ribbon Creek (another 60 kilometres or so), plus a smattering elsewhere. Funding limitations may have cut down on grooming frequency in much of the region.
Yes, one can legitimately get a little confused by the geography, but if you download the Kananaskis map at the Alberta Parks website (www.tpr.alberta.ca/parks), all will be revealed.
What's Up at Canmore
You can read dozens of articles and blogs about Canmore's Nordic Centre, so I'll keep this short. Simply, it's a wonderful place to ski: great, recently toned-down competition trails, refurbished day lodge, expanded snowmaking to guarantee skiing, more than six kilometres of lit trails, some very nice recreational trails, an outstanding rental/retail shop, truly glorious mountain surroundings and a pleasant town a few minutes away.
The big news is that the province of Alberta and the Canadian national government are funding a new 30-kilometre recreational trail network in the park. It'll be designed not just for skiing, but also for snowshoeing, hiking, walking, cycling and mountain biking.
Home Base
There's only sporadic lodging in K-Country, which reflects the fact that there are just a few hundred full-time residents in the region (outside of the town of Canmore).
One exception is a place I visited for the first time last winter and thoroughly enjoyed: Mount Engadine Lodge, near the south end of Spray Lakes Reservoir. It's a beautiful place in a magnificent private setting. It's also centrally located, with close to 150 kilometres of groomed trails within an hour's drive (call it 45 minutes from Canmore along the well-maintained Smith-Dorrien/Spray Lake Trail).
Mount Engadine Lodge is a remarkable place — comfortable, hospitable, eco-friendly, with fine food. And it's really convenient to skiing, more so than any place else in the locale. Shari-Lynn and Chris Williams, the innkeepers, have a great work ethic along with attention to detail and a sense of humour, creating a warm ambiance that's always appreciated.
And, yeah, it's really nice to come home to an outdoor hot tub with gorgeous sunset views and lots of space to relax or socialize. And if you have children in search of fun, there's a sliding area beside the lodge. The lodge doesn't have rental equipment, but can arrange instruction by reservation.
This part of Spray Valley Provincial Park has probably the most reliable snow in Kananaskis Country. That's partly a reflection of the altitude (approximately 6,200 feet/1,900 metres), which is higher than either Canmore or Lake Louise. Storms can drop as much as 100 centimetres (40 inches) of snow over several days. Temperatures can be rather nippy (-30° Celsius or Fahrenheit at the extreme), but days tend to be comfortable and sunny.
Nearby peaks rise as high as 3,097 metres (10,160 feet), with Mount Engadine, northeast of the lodge, just a little lower. In other words, the place is gorgeous.
The Skiing
For stuff close to the lodge, Chris grooms two forested single-tracked loops just off-site and sometimes maintains a trail on Moose Meadows, just below the lodge, though there's more likely to be snowshoeing or ski-set trails down there.
The nearby Mount Shark system was one of the areas proposed as the 1988 Olympics cross-country and biathlon venues, and it's primarily intermediate to advanced terrain. There are a half-dozen linked one-way loops, with one extensive easier loop. It's also the jumping-off point for backcountry tours into Banff National Park and Mount Assiniboine Provincial Park in British Columbia.
Since trail grooming can be inconsistent in the area (machinery seemed to be at work mostly on weekdays when I was there), it's worth checking for the latest conditions.
Peter Lougheed Provincial Park has another major system, apparently with more reliable grooming than at Mount Shark. The trails also tend to be easier. The Visitor Information Centre is open every day, as is the Pocaterra Hut, from where many routes disperse. Incidentally, each February, it's also the starting area for the classic-only Kananaskis Ski Marathon (a.k.a. the Great Cookie Race, as every competitor gets homemade cookies).
The 11.6km Pocaterra Trail is lovely, winding and popular, slowly climbing through coniferous forest and meadows. There are many side-trails (again most of these trails are one-way), so you can get a lot of terrain and view variety within a few kilometres.
The Ribbon Creek network is a little farther north along Highway 40, near Kananaskis Village and Nakiska. It's primarily novice to intermediate skiing, with a few tougher sections.
All in all, K-Country is hard to beat for wonderous skiing and terrain with an amazing mix of options that will keep you coming back for more in this Nordic heaven.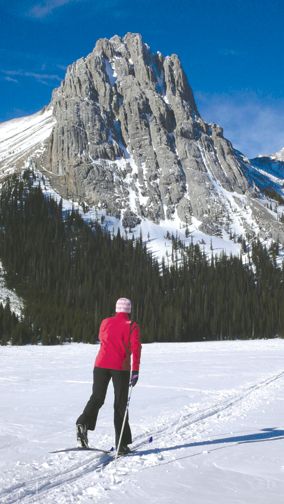 Mo' Info
K-Country is a complex territory – huge, beautiful, with a series of
different groomed trail networks as well as snowshoe trails and ungroomed touring trails such as the Chester/Sawmill system.
You can contact www.tpr.alberta.ca/parks, then select "Kananaskis," which has sub-links for the latest trail conditions (grooming, closures,
avalanche reports, etc.), reports on Canmore Nordic Centre, etc.
Mount Engadine Lodge (www.mountengadine.com) is open from mid-December through mid-April. The main lodge and two chalets can accommodate up to 17 guests. Rates start at $170 a night for a room (two-night minimum) and include all meals, afternoon tea (goodies plus a dozen types of tea), hot tub and innkeepers' good humour. Pets are welcome.