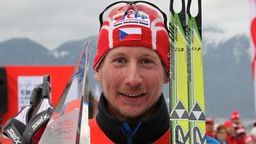 December 22, 2011 – Lukas Bauer is a two-time FIS Tour de Ski champion and one of the hot candidates for a third win. FIS Cross-Country News talked to the Czech ace about his feelings before the highlight of the season and, of course, about Christmas.
Lukas, how do you evaluate the season so far? In early November you were coping with illness and jumped into the World Cup circuit in Kuusamo, and have only scored a top three result in Davos. Are you satisfied with your season prior to the Tour de Ski?
Lukas Bauer: I could say I'm satisfied. Of course I was not happy about the health problems in November that forced me to skip the World Cup season opener in Sjusjoen. However, I have become used to these things during my career. My problems were also caused by mild weather.
This season the Tour de Ski is the biggest goal for me and I did not want to rush it so sat out the opening World Cup weekend. I was pleased about my results in Kuusamo and Davos. Before Christmas I did not take part in the last World Cup and focused instead on the final preparation before the Tour. Now it's time to get in more speed training after the high altitude stay. Everything has been going as planned.
You mentioned you spent a few days at high altitude after Davos. Where did you go and what did your training look like?
LB: After Davos I went to Schnalstal. After previous altitude blocks at Santa Catarina and Davos I wanted to get the high altitude-training period done. At Schnalstal I did not carry out intensive workouts. I did some alpine skiing and strength training. My point was to stay at high altitude and relax before the final training phase before the Tour.
There are not many candidates for the overall Tour de Ski victory this year, Dario Cologna, Petter Northug, you. Do you see any other hot names?
LB: No doubts about Petter being the hottest favorite, Dario is there as well. But there are others as well. When I think quickly, Alexander Legkov could be strong. Last year he had a really good first half of the Tour before he got sick. Marcus Hellner was very strong until the second last stage. Roland Clara has been in good shape this year and his second part of the Tour was great. Maurice Manificat has produced very stable performances this season.
The list of candidates is quite long, which is good and it will make the Tour interesting. But the Tour is the Tour and small mistakes influence the final performance much more: travelling, illness and tactics play an important role as well. The Tour de Ski is extremely difficult not only for the athletes but even more so for the service staff.
This year's Tour de Ski is one stage longer than last year. Does racing more races in a row suit you? Do you have any secret on how to recover after a tough race?
LB: Yes, mostly it suits me well, but other racers do not mind either. I do not have any special tricks for recovery but you can use every bit of energy you can save in the Tour.
Is there any Tour stage you are particularly looking forward to?
LB: I don't have favorite and non-favorite Tour stages. I'm looking forward to getting the Tour started and to being back in the racing mode. I think that all racers will be looking forward to the last meters on Alpe Cermis when the Tour is finally over.
I'm also looking forward to the Cortina-Toblach stage, which has its special charm. I will have to get over the sprints and turn down some bonus seconds.
Where do you think the Tour will be decided? Last year you attacked for the podium as late as on Alpe Cermis.
LB:  Every year it's different and the turning point happens somewhere else. As always, the very first stages will probably not be decisive. Even though the Tour ends on Alpe Cermis I think that the really important part of the Tour starts in Toblach.
Were you surprised about Petter Northug's strength in individual start competition?
LB: I was not surprised at all. Already last year he was really strong in individual start competitions. He has become a 100% complete skier with almost no weaknesses. But even he will be thoroughly tested by the Tour. Let's wait and see on top of Alpe Cermis.
Last year you were working on your speed and sprint abilities. Have you continued with that this year as well? What is the key to success on the Tour?
LB: Last year I was focusing on getting better reactions on attacks before bonus points and I think it was quite successful. I did not put in place any special training this year. The key to success is without doubt performance stability, which goes hand in hand with excellent service. You also need a bit of luck to stay away from illness.
How are you going to spend Christmas? Do you already have all the Christmas presents?
LB: I will of course spend Christmas with my family. All presents are ready, the Christmas tree is almost decorated and I have already tasted the Christmas sweets.
What are your wishes for the New Year? Do you have a New Year's resolution?
LB: My wishes are ordinary, first of all health and happiness for my family and then some sport success as well. I wish the athletes taking part in the Tour to deliver the best possible performance so that they will be able to say to themselves that they gave it their all. And I would like to get the real winter started. To FIS I wish success not only on the Tour but the whole season.