September 03, 2017 (Wanaka, NZ) – The sun came out for the finish of the 2017 Merino Muster 42 km marathon cross country ski race at Snow Farm in the stunning Pisa Range, Wanaka. There were 85 entrants in the 42km cross country skiing with over 127 in the 21km Snow Rake and the 7km Straggle Muster.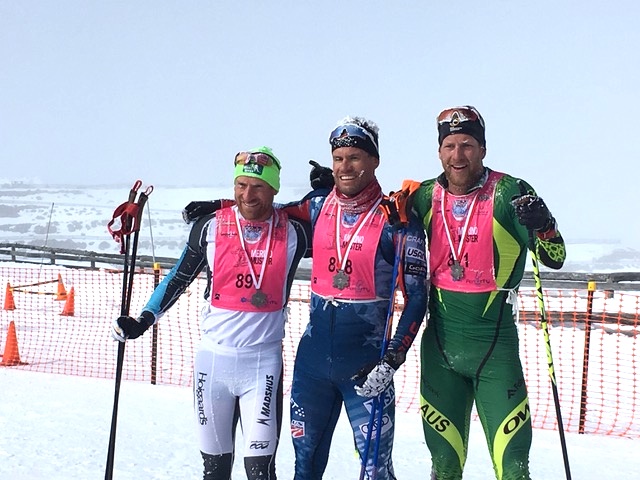 Entrants competing came from all over the world – Italy, Australia, Wales, Germany, France, Switzerland, Finland, USA, Japan, Argentina, Singapore Russia, Canada, Hong Kong, Morocco,Nepal, Mexico and Estonia.
With the PyeongChand 2018 Winter Olympic games looming this event is an important part of the more serious competitor's preparation. The temperature was -5 degrees with fog lingering at the start which formed ice crystals on beards and hair as steamy breaths froze as they were exhaled.
The sun was very much needed in order to see the men's fast finishers skiing toward the line who were all within touching distance of each other.  Simeon Hamilton, Brain Gregg  of USA and Phillip Bellingham from Australia all finished in first, second and third respectively, all recording times within one second of each other.
The woman's race was won by USA Olympian Jessica Digggins of USA  followed by Hannah Dreissigacker USA and Britta Clark from USA.
Snow conditions were fantastic with one veteran skier saying they were the best he has ever raced in.  This was largely due to the huge efforts of the Snow Farm team Dean, with some help from Sam, who worked through the night with two machines grooming the loops three times to create these conditions. Also, the fact that the temperatures stayed cool helped.
In the 21 km Snow Rack the woman showed their international class. Another USA Olympic skier Catlin Gregg beat her fellow USA teammate Eileen Carey followed by Julia Kern also from the USA ski team.
Campbell Wright flew the local flag winning the men's 21 km race with Moroccan skier Samir Azzimani and Sophie Caldwell won the women's event hotly contested by the her USA team mate Catlin Gregg.
The 7 km Straggle Muster men's & woman's race, a great introduction to the sport, was won by local skiers Olivia Jones and Angus Cagney.
As is the tradition, many people dressing up for the occasion with the dancing girls, a kiwi to name a few and the annual early viewing of Santa Claus.
Juha Viljamaa from Finland, the President International Loppet Federation also raced in the 21 km Snow Rake. When asked for comment he said the conditions were nice and cool and the race was run very professionally.
Worldloppet is a family of skiers with camaraderie amongst nations. Mt Aspiring college student Louis jones takes the award for true Worldloppet spirit skiing 14kms with an eighty one year old Japanese skier, Haruo Tsuchiya after completing his own 21km race just to make sure he completed the race after last year breaking a boot and retiring from the race.
Results (brief)
1. Simeon    Hamilton (USA – U35M) 1:40:33     
2. Brian    Gregg (USA – U35M) 1:40:34  
3. Phillip    Bellingham (AUS – U30M) 1:40:35  
4. Jessica    Diggins (USA – U30W) 1:51:42 ……….1st woman      
5. Joosep    Tammeme (EST – U30M) 1:52:13
6. Hannah Dreissigacker (USA – U35W) 2:01:59 ……….2nd woman  
7. Valerii    Krylov (RUS – U55M) 2:03:52
8. Chad    Gregg (USA – U35M) 2:07:05                                        
8. Chris    Forne (NZL – U45M) 2:07:05
10. Tim    David (AUS – U50M) 2:07:28
11. Britta    Clark (USA – U25W) 2:09:06 ……….3rd woman                                            
12. Daiki    Watanabe (JPN – U30M) 2:09:59
13. Rachel Knott (USA – U35W) 2:10:01 ……….4th woman                                        
14. Sloan    Storey (USA – U25W    ) 2:11:10 ……….5th woman                                        
15. Ron    Carmichael (GBR – U60M) 2:11:52
For a full list of results click here.