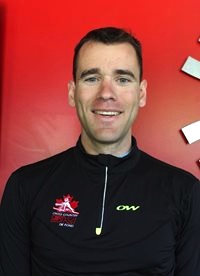 August 19, 2017 – CCC Staff & community would like to wish the best of luck to Mike Vieira as he pursues a new professional endeavour as Manager of Paralympic Performance with the Canadian Paralympic Committee (CPC). We are very grateful for the passion and expertise that Mike has shared with us for the last four years as CCC's Manager of Coaching Development, and he will be greatly missed.
"Mike's contribution among the CCC and the Coaching and Athlete Development (CAD) team in particular will definitely be missed. Mike's genuine passion for our sport and the development of coaches and athletes combined to his impressive academic and professional coaching background made him an ideal candidate for CCC's manager of coaching development position. Fortunately that passion will always remain and Mike will continue to provide some assistance to CCC in delivering specific coach development initiatives on a contractor basis. We wish him all the best at the CPC" said Stéphane Barrette, director of CAD.
Join us in wishing Mike a fantastic new chapter with the CPC!