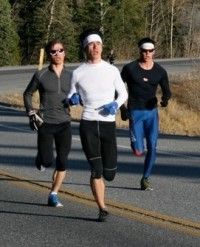 November 03, 2010 (Canmore, AB) – The Alberta World Cup Academy concluded their testing week with an uphill running time trial on Saturday, using the same 7.5km and 5km courses that are gaining legendary status. Just over a month after last running the test, the majority of the athletes posted personal bests along with new course records.
Graham Nishikawa led the mens field with a blistering time of 29:23, beating his previous course record by almost 40 seconds and cracking the sub 30 minute barrier for the first time in course history. Not too far behind was Jordan Cascagnette, posting a new Junior Men's course record with a time of 33:13.
For the women, Sara Hewitt claimed the fastest time once again, crossing the line in 26 minutes flat for a new PB, only 19 seconds off Madeline Williams' course record.
As the snow begins to creep down the mountains the team will start to make the transition to snow, with the first winter camp set for November 13th in Lake Louise.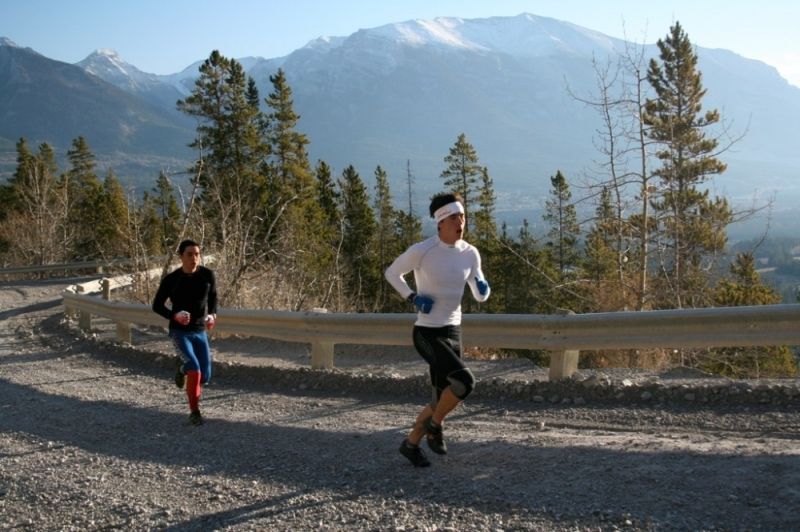 Results
Men 7.5km
1. Graham Nishikawa 29:23 (New CR, PB)
2. Kevin Sandau 30:22 (PB)
3. Drew Goldsack 30:28 (PB)
4. Jess Cockney 31:31 (PB)
5. Pate Neumann 31:32
6. Jordan Cascagnette 33:13 (Jr CR, PB)
7. Chris Butler 33:15 (PB)
8. Bob Thompson 34:07 (PB)
9. Sebastian – Nordic Combine 32:35
10. Zach Holland 35:22 (PB)
11. Wes Saville – Nordic Combine 35:48
12. Vince Prenioslo – Foothills Nordic 37:15
13. Joey Burton 37:39 (PB)
14. Kai Lukowiak – Foothills Nordic 38:10
Women 5km
1. Sara Hewitt 26:00 (PB)
2. Annika Hicks 28:20
3. Heidi Widmer 28:47
4. Eva Szabo 28:59 (PB)
5. Emily Nishikawa 30:00 (PB)
6. Kate Brennan 30:55 (PB)
7. Marlis Kromm 31:07 (PB)
8. Janelle Greer 32:48 (Zone 3 training)