February 09, 2018 – CONGRATULATIONS! North America has caught up to the best in the world in cross-country skiing. In this Olympic year, American Jessica Diggins and Canada's Alex Harvey have spearheaded astonishing results and hope to continue with more glorious North American Olympic medals. We look forward to both teams adding to the legacy of Becky Scott's gold at the 2002 Games, Chandra Crawford's gold at the 2006 Olympics, the Team Sprint gold by Devon Kershaw and Alex Harvey at the Nordic Worlds in 2011, and Harvey's stellar 5okm gold at Lahti2017.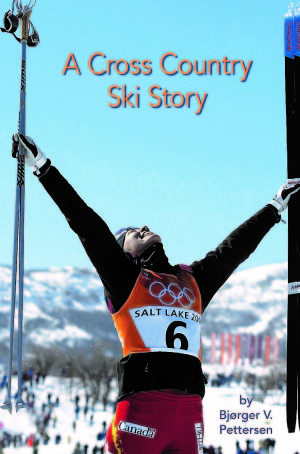 Timely, just now prior to the Olympic Winter Games in Pyeongchang, South Korea, that BPA Limited is pleased to announce the release of Bjorger V. Pettersen's amazing in-depth book "A Cross Country Ski Story" that chronicles the development of the sport of cross-country skiing in Canada, North America and the World. From the humble roots, that began first with winning teenage teams, in Prince George, BC, and went on to launch the program at Inuvik, NWT and finally to the Canadian National Ski Team.
"Welcome to my mountains, to my trails through Canada's terrain of rolling hills and prairies – to my world of cross country skiing," says Pettersen, who is recognized as the first full time ski coach and cross-country sport builder in Canada. Notably, Pettersen's team of young Native skiers from the TEST/Inuvik Program drew worldwide attention and were headlines in many countries. The Firth twins, Sharon and Shirley become North American champions at 14, after only having skied for 5 months.
A Cross Country Ski Story is probably the most extensive book ever written about the sport; a high quality, hard cover book of 435 pages and 300 pictures both in b&w and color. Finally, first at the Canadian Centennial Races in 1967 at Prince George, BC and then at the week-long Top of the World Ski Championships in Inuvik 1968-72 we were able to bring the best in the world to come and ski on our turf. This immediately made us more competitive.
During 1983-88, Pettersen, a 27-year member of the FIS Cross Country Committee, spent his time picking the Olympic cross-country site and stadium for the Calgary Games, designing the trail system and layout. Then during the Olympic period, Pettersen operated as Venue Manager and Chief of Race. The Games in Calgary left a huge footprint for Canadians and really entrenched the sport on the world stage.
Bob Gray, an ex-member of the US cross-country ski team was one of the first to read Pettersen's newly published book. He wrote a full-page memo after reading it, this is the first paragraph. "Dear Bjorger..Got your book. What a delight! What a page turner…read it cover to cover. It was like living my racing career and travel all over again…I started racing in 1953 under John Caldwell who had just come back from the 1952 Olympics in Oslo and raced until 1974."
For more information contact Bjorger Pettersen directly in Okotoks, Alberta at bjorger@shaw.ca or visit A Cross Country Ski Story here.