January 12, 2018 (Rupholding, Germany) – Norway was unstoppable again in the men's 4×7.5km relay in Rupholding with France second and Russia third as the host team Germany, settled for fourth on the day. The Norwegians are the favourites for the upcoming Pyeongchang 2018 Games.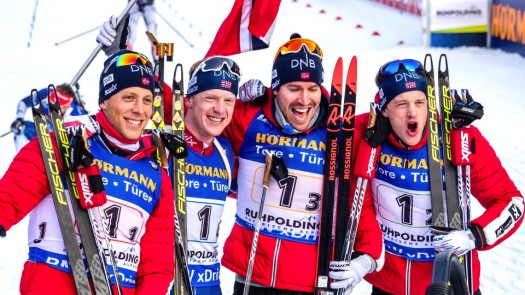 Canada's Christian and Scott Gow, Macx Davies and Brendan Green finished 14th with one penalty and 10 spares finishing 3:22.3 behind. The US squad of Lowell Bailey, Leif Nordgren, Tim Burke and Sean Doherty, suffered eight penalties and used 13 spares to finish 24th at 16:21.6 behind
The Norwegians used seven spares on their way to victory as anchor Johannes Thingnes Boe dropped his challengers for a convincing win. Antonin Guigonnat from France and Italy's Thierry Chenal were no match for Boe as Guigonnat held on for the silver with Russia's Anton Shipulin taking over third and Simon Schempp from Germany finishing fourth.
Results here.