August 29, 2017 (Thunder Bay, ON) – They say skiers are made in the summer, and the NTDC skiers have taken that to heart. After hosting athletes from across the country in June for an intense National alignment training camp, the NTDC Team spent July recovering and training around Thunder Bay.  Most of the team of 14 were in town, so there were plenty of opportunities to train together and push each other.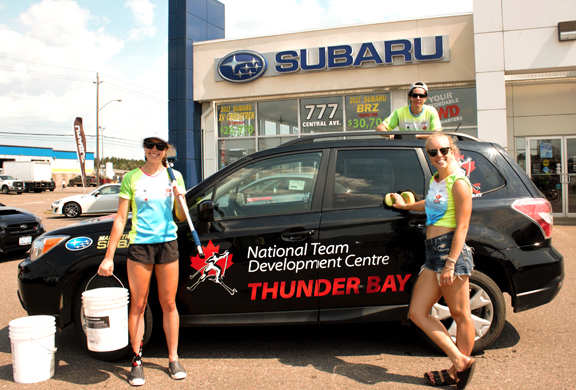 In August, as athletes ramped up their training hours, Bob Thompson, Evan Palmer- Charrette and Julian Smith travelled to Canmore to train at altitude, building their fitness by mountain running and skiing up at 2700m on the Haig glacier. Katherine-Stewart Jones headed to New Zealand to train on snow with the National Ski Team.
The balance of the team joined athletes from the Ontario Ski Team, Thunder Bay and Minnesota, and used the terrain around Grand Marais area to do their volume work.  Their camp culminated with 6 hour rollerski/running workouts on the roads and hills around Lutsen.  Most of the team returned to town for the end of August, where they did a carwash fundraiser at Marostica Subaru and worked with younger athletes at the Big Thunder Nordic Ski Club High Performance Camp.
Now, as the weather changes (yep, they've pulled out long sleeves and tights occasionally for workouts), it is time to shift into competition mode. There will be one more round of high tech fitness testing at the Canadian Sport Institute in Toronto, and then the 2017/18 NTDC Thunder Bay Team will be officially launched.
The 2017/18 NTDC Team Launch will be Friday September 8th from 5:30 to 8:30 at the Royal Canadian Legion Branch 5, 229 Van Norman Street.  Tickets are available online at www.ntdctbay.ca.  Come on out for a casual meet and greet with these great young athletes.
It's going to be an exciting year, with the athletes travelling to Europe in mid-September for altitude training, then back in November to Canmore to compete for World Cup spots. The full racing schedule will start in early December, with the NTDC Thunder Bay athletes competing for much coveted spots on Canadian World Championship and Olympic teams.  Finally, the last major domestic event of the season will find our athletes back on home turf, competing at the 2018 Skinationals at Lappe Nordic Ski Centre in March. Join with us on our journey!