February 15, 2017 (Finsterau, Germany) – American Oksana Masters from Louisville, Kentucky won her second medal of the week as she claimed bronze in the women's sitting individual biathlon at the 2017 World Para Nordic Skiing Championships.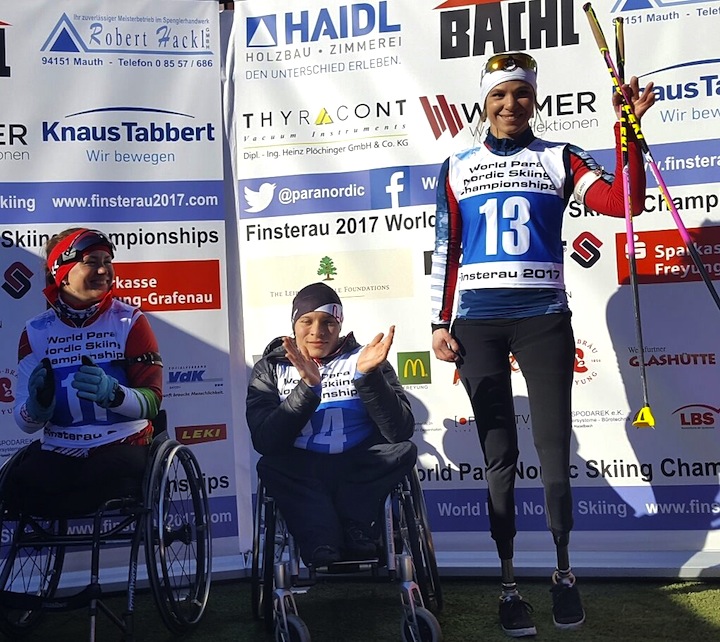 "Today was a complete shock. Although it was a great sunny day, it was one of those frustrating days for biathlon because of the wind. I went into this race with no expectations and just wanted to focus on my process of shooting and have that perfect shot," said Masters.
Masters, who won her first world title in Sunday's cross-count sprint, returned to the podium in the 12.5-kilometer biathlon event. Masters' effort on the skis was buoyed by two perfect trips to the range out of four stages.
"The first two stages didn't go so well, and I thought it was over at that point. Then I just wanted to out ski people, but I was able to get some good cues from my coaches on the side of the course. As I was approaching the range I focused more on my breath and just taking it one shot at a time and it worked out in the end," she added.
Aaron Pike (Park Rapids, Minnesota) had his best-ever showing on the world championship stage as he recorded a fourth-place finish in the men's 15km individual biathlon. Pike finished less than three seconds off the podium. Pike's teammate and U.S. Army veteran Andy Soule (Pearland, Texas) finished seventh in the same event.