October 27, 2011 (Canmore, AB) – For veteran Canadian national XC ski teamer, Perianne Jones, this past racing season was intended to be a rebuilding year. Following a tough 2009-10 season where Jones cracked the top 30 on the World Cup circuit only once – notching a 25th in Canmore – she failed to qualify in the classic sprint event at the 2010 Winter Olympics in Vancouver.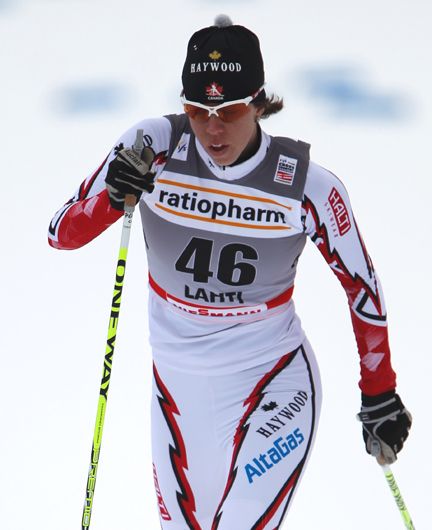 Well, rebuild she did, gaining momentum through the season which began in North America and concluded with solid races at  the Nordic World Championships in Oslo, Norway and later at the season-end World Cups. On the strength of her late season results Jones was named to Canada's Senior World Cup Team, and is looking to sustain last year's momentum going into the 2011-12 season.
She began the 2010-11 campaign racing in the domestic Haywood NorAm and Teck Sprint Series race circuit, as part of a strategy to rebuild her confidence and gain more experience racing in sprint heats. The strategy paid off, with Jones stepping onto the podium at just about every event she entered, recording wins at Sovereign Lake, Lappe, and Telemark. She was eventually crowned the overall women's champion in both the Haywood NorAm and Teck Sprint series.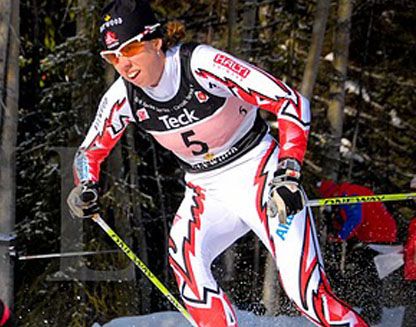 "It's hard to race on the World Cup when you're not putting in any good results, so it was good to gain some confidence over here and then head over to Europe later in the season feeling pretty confident."
On the strength of her stellar NorAm results Jones stamped her ticket to the Nordic World Championships and late season World Cups, joining the Senior World Cup squad in Drammen (NOR) in late February. Once there she shook off any lingering doubts about her ability to race amongst the world's best, posting some of the best results of her international career.
In Oslo, Jones qualified 24th and finished a respectable 29th in the Free sprint event and teamed up Dasha Gaiazova to finish a solid 6th place in the classic team sprint. Following the Worlds she stayed in Europe for the remaining World Cups, where she earned her best result yet. At the World Cup in Stockholm, Sweden, she aced her quarter final heat in the classic sprint and made it to semis ending up 12th overall – a break through result for the Almonte, Ontario skier.
Named to the Senior World Cup Team last spring, Jones has enjoyed a busy and productive dryland season, which included team camps in Oregon, Hawaii, Canmore, Park City, and Whistler, in addition to a special joint camp with the women of the US Ski Team on Alaska's Eagle Glacier, which she attended with teammate Chandra Crawford.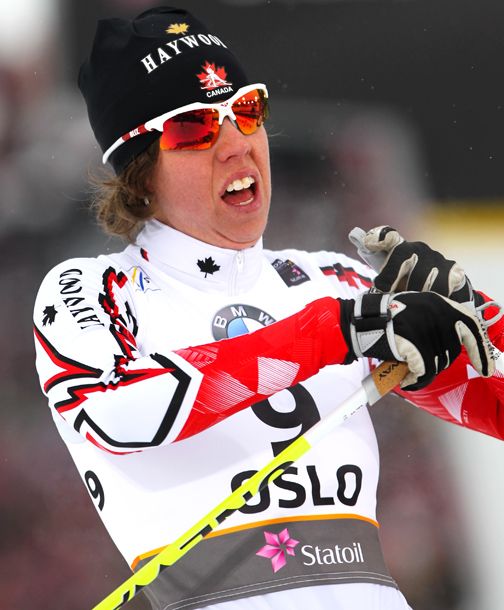 "It was really cool to check out a different glacier because we ski on the Haig all the time… and just to ski with 20 girls who were training with us most days, was such a great opportunity to learn and take something from each person that you get a chance to ski and chat with."
In addition to honing her technique, Jones worked this dryland season on improving her anaerobic threshold so that she can maintain her speed for longer periods during sprint races. "I can go pretty fast for two minutes, but it would be really handy if I could go fast for three whole minutes!" she told SkiTrax.
Looking ahead to the approaching World Cup season, Jones has her sights set on qualifying for sprint heats on a consistent basis and racing deeper into the heats, including semis and finals. She feels her distance skiing is coming along as well and has hopes of breaking into the Red Group there as well.
With her fitness level closer to where she wants it to be, and her confidence restored, Jones is ready once again to take on the world's best skiers adding, "I'm pretty confident with the level I'm at now."