May 17, 2017 (Ottawa, ON) – The Canadian Paralympic Committee, Pfizer Canada Inc., the Canadian Sport Institute Ontario and the International Paralympic Committee are pleased to announce a new partnership that names the leading pharmaceutical firm the title sponsor for the VISTA 2017 conference to be held in Toronto Sept. 20-23, 2017.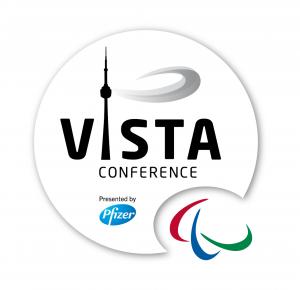 Held bi-annually, VISTA is the world's leading sports science conference focusing on Para sport. Around 300 international sports scientists, sport medicine practitioners, classifiers, coaches, athletes and sport administrators are expected to attend this year's event in Toronto.
"We are extremely proud to support VISTA 2017 and are looking forward to this unique opportunity to connect with the Paralympic community, build awareness and advance our support of the Paralympic movement and high performance sport," said Rhonda O'Gallagher, Vice President, Corporate Affairs at Pfizer Canada Inc. "With less than one year to go before the PyeongChang 2018 Paralympic Winter Games, VISTA is an exciting and cutting edge chance to be involved with a marquee Paralympic event in Canada in 2017. We believe strongly in the Paralympic Movement and are thrilled to be supporting the conference."
Pfizer Canada is one of the Canadian Paralympic Committee's longest standing corporate partners and is the official pharmaceutical partner for the Canadian Paralympic Team. Pfizer has supported the Canadian Paralympic Team since 1996.
"Having recently celebrated the 20-year anniversary of our partnership with Pfizer Canada, their sponsorship of VISTA 2017 is testament once again to the outstanding support of Paralympic sport that they bring to the table," said Karen O'Neill, CEO of the Canadian Paralympic Committee. "Pfizer Canada's sponsorship of VISTA 2017 will help create the opportunity for leadership dialogue and development, it will advance the Paralympic sport science and sport medicine agenda and will showcase best practices and thought leadership of the international Paralympic community."
VISTA was first held in 1993 in Jasper, Alta. and aims to provide a forum for exchange on current information, research and expertise related to Paralympic sport and the Paralympic Movement.
September's VISTA 2017 conference will be held in Toronto from Sept. 20 to 23. Organized through a partnership between the International Paralympic Committee, the Canadian Paralympic Committee and the Canadian Sport Institute Ontario, the theme of the event is "Opportunities and Challenges in Paralympic Sport Science and Sport Medicine Support."
For more information on VISTA 2017, visit: www.vista2017.com