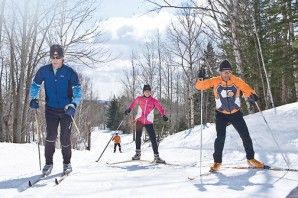 December 1, 2009 (Quebec) – I've talked with many skiers who're intrigued at the thought of visiting the French-Canadian province of Quebec. Mostly Americans ask questions such as "Do they have mountains?", "They have snow?", and "Do they speak English?" Respective answers are "Yes," "Yes, lots!," and "Mostly." Oh yeah, and suitably important I'll add that the skiing is fantastic. You'll find cross-country resorts, day areas and inns that rival the best anywhere in North America, great terrain and grooming (note there are many more classic than skating trails) and absolutely phenomenal dining (believe me, it's not just "food"!). Hospitality, history (more on that in a moment), it's all waiting in Quebec. To test endearing memories from my last visit more than 10 years ago, I flew from Colorado to Quebec City this past March, saw some old friends and new places and confirmed that skiing there is a treat unlike any other.
Capital City Skiing
There are hundreds of kilometres of groomed trails at a dozen areas within an hour's drive of spectacular old Quebec City. And anywhere you go, it's truly another culture, from language to architecture and cuisine.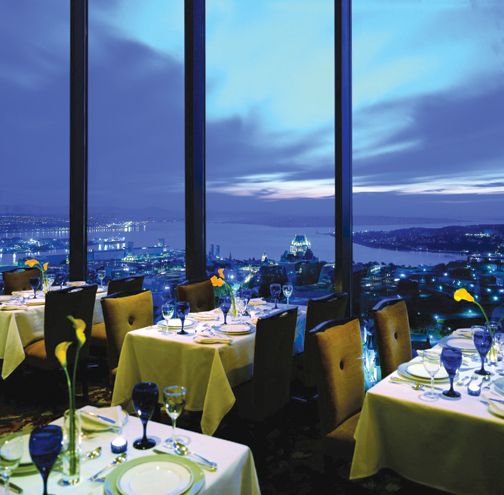 I started off in the city itself, on the Plains of Abraham trails that wind across National Battlefields Park. There's no really advanced skiing here, since many of the routes follow summer roads, but there's a nice mix of wood and open space.
It was fascinating to watch big freighters gliding along the St. Lawrence, bellying through ice-clogged water. It was even more of a treat to ski among old cannons pointed toward the river and around centuries-old fortress-tower walls.
I'm fascinated by history, so it was a little awe-inspiring to ski across the battlefield where Englishman General Wolfe defeated Frenchman General Montcalm in 1759. The big deal here is that the battle pretty much determined that the English would control Canada.
Cross-country concessionaire Colette Pepin, formerly on Canada's Olympic rowing team, is a ball of fire, full of smiles and energy and ideas. You can rent ski packages, snowshoes and kicksleds at the Discovery Pavilion, a little off the trails. There's a bit more classic skiing than skating, plus walking and snowshoeing routes.
The Everything-Resort
It's been grooming since some time in the 1970s, but Station Touristique Duchesnay really became a Nordic destination when a 48-room hotel opened in 2003. It's a winter mecca, roughly a half-hour drive from Quebec City, with so much to enjoy in addition to cross-country that a multi-day stay is definitely in order. Other activities include tubing, ice skating, snowmobiling, ice fishing, even an elegant new spa.
The resort is a full-service ski operation. The day lodge, L'Horizon, rents both waxable and waxless classic skis as well as snowshoes and has a snack bar, retail shop, lounge and games room. It's also the centre for day tours and instruction (by reservation) and the jumping-off point for more than 70 kilometres of trails — track or classic ski a half-kilometre, dip down through a tunnel and then take off on an increasing number of diverging routes, most of the near-in ones easier and farther ones longer.
There's a lot of fun ski terrain left by glaciers — hills, valleys (La Vallonnée is probably the resort's signature trail), ponds, with fine views of sizable Lac Saint-Joseph and maple and yellow birch forest, with occasional bursts of fir and spruce. A great many of trails are groomed for classic skiing only and most are one-way. A little atypical for Quebec, there's only one skating trail, a there-and-back 25-kilometre route.
I really enjoyed the heated trailside huts, where skiers lazed around in the March sun and birds land to feed from your hand. You can also stay overnight at most of the shelters, though conditions are rustic.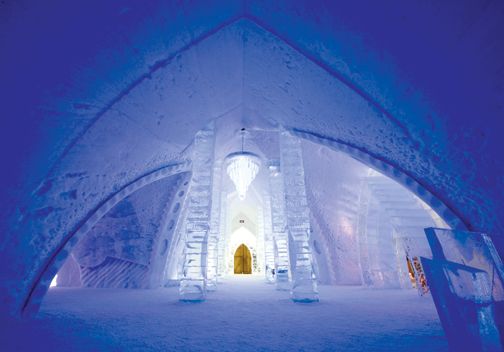 Station Duchesnay has all kinds of lodging fairly near the trailhead, from lakeside cabins with kitchens, to the hotel complete with restaurant, bistro-bar and even an indoor pool. For a unique treat and a one-of-a-kind memory, check out the spectacular and graceful Hotel de Glace, built of ice and snow.
High, Deep and Dry
On the drive up to Camp Mercier, I thought about the enormous contrasts to Station Duchesnay – weather (transitioning from light rain to sloppy snow as I climbed), distance, services, amenities, winter emphasis – it's all different.
Camp Mercier is only about 50 kilometres north of Quebec City. It's a pure ski-and-snowshoe resort, a much wilder-feeling place than Station Duchesnay. You're surrounded by coniferous forest, which happily gives good protection from the wind.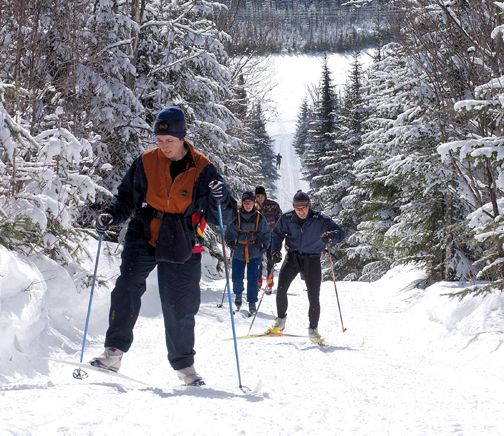 If you're looking for deep snow, dry snow and a long ski season, this is the place to go, although it's barely known to Americans, who tend to visit Mont-Ste-Anne. You can figure on five to six metres (16-20 feet) over a four-month winter, where the lowest point on the trail network is more than 300 metres (1,000 feet) higher than the highest point at Station Duchesnay.
There are only a couple of skating trails versus 15 or so classic doubletrack trails (52 kilometres total), five heated shelters – most of them pretty well out on the trail system – and another 20 kilometres of new and separately marked snowshoe trails. The higher you go, the better the views.
There's really no expert skiing at Camp Mercier, but plenty of fun and simply great terrain along hills and ridges, streams and lakes. One of the things I enjoyed most was trailside interpretive signs, touching on everything from trees to rabbits.
The Chalet Mercier day lodge rents waxless and waxable classic skis as well as snowshoes, but not skating gear. There's no instruction available, but there's a small pleasant cafe, waxing area, small retail shops and large lounge. Signs, maps and printed materials are all in French, but some of the staff speak excellent English.
Lodging is simple but very pleasant cabins with electricity, showers, kitchen and wood stoves. I stayed in the Chalet Lac-a-Noel cabin #2 and skied right down to trail #2.
Speaking of wild, the afternoon's weather began with rain showers, sleet and wind, and changed to dry snow, dropping several inches overnight, while the temperature fell 5°C – and this was in March!
Incidentally, Camp Mercier, Mont-Ste-Anne and Station Duchesnay offer a shared pass for up to five days.
Pierres' Cross-Country Ski Area
Monte-Ste-Anne (MSA) may have the largest groomed network in Canada, so well maintained in summer that it only needs 10 centimetres (four inches) of packed snow to open some trails.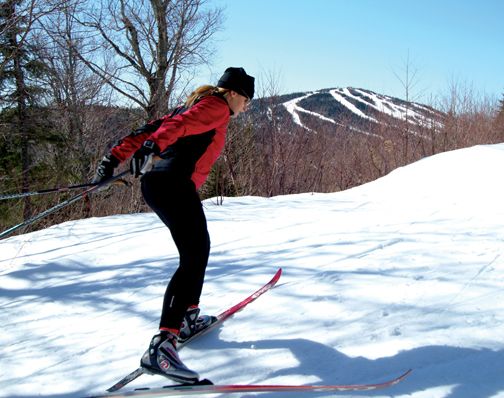 Statistics aren't everything but they say a lot – more than 100 non-repeat kilometres, including many with a skate lane. There's a mix of doubletrack, doubletrack with skating, a skate-only route, even singletrack. MSA simply offers great skiing, with almost-endless options, with short loops near the base and longer loops farther out. Easier trails are near the Centre, black diamonds the farthest out, with lots of intermediate trails in between, and forest everywhere. There's even riverside skiing. The views are fantastic, and you can overnight at several of the rustic warming huts. The area has a full-scale Centre (Chalet du Rang St. Julien) with rentals, retail, instruction, cafeteria and lounge.
When I think of Monte-Ste-Anne, I think of two Pierres. Pierre Vezina is a human dynamo, was a Canadian National Team member and has been the Nordic director since 1986, while multiple World Cup winner Pierre Harvey (father of current Canadian National Team member Alex Harvey) lives near the trails.
My final day at the resort, I skied with (well, behind if you must know) Vezina. At one point, I was passed by an inspiring, fantastically fit, smiling, 82-year-old woman on classic skis. An hour later, heading back to the lodge, we followed a winding route where moose tracks crisscrossed the trail a dozen times.
I found that a great way to end the day at Monte-Ste-Anne is to stop off at the elegant Zonespa (www.zonespa.com), right on the road back to the main resort. You'll be suitably refreshed for the evening, and the next day's activities.
Mo' Info
Two good resources on cross-country skiing in Quebec are www.xcskiingquebec.com (it describes areas near Quebec City) and www.rssfrq.qc.ca (it covers the whole province).
Quebec City
The Plains of Abraham have 12.6 kilometres of free groomed trails, 3.8 kilometres of snowshoeing trails, walking trails, heated shelters, equipment rentals, a waxing area and instruction. The ski season can run as long as late November into April.
If you're looking for lodging, I recommend the imposing Loews Le Concorde Hotel (www.loewsleconcorde.com), a moment's walk from the trails. It caters to cross-country skiers, and there are fantastic views from the 27th-floor revolving restaurant.
Station Touristique Duchesnay
The four-season resort (www.sepaq.com/duchesnay) offers a wonderful variety of activities, from snowmobiling to spa, and has 88 rooms spread between villas, lodges and the hotel. You can also stay at the 3,000-square-metre Ice Hotel (www.icehotel-canada.com).
There are 71 kilometres of groomed cross-country trails and 20 kilometres of separate marked snowshoe trails. The ski season typically runs from the second weekend in December into late March. Trail passes are included with accommodations, with all kinds of packages available. The elevation range is 738-1,148 feet.
Camp Mercier
It's a ski/snowshoe day and destination area. You can usually ski from early December through early April on 50-plus kilometres of groomed trails. If it is ever closed, it is due to lack of guests, not snow. Cabins go from approximately $59/person [CDN], double occupancy – overnight privileges include skiing and snowshoeing plus tubing and ice skating nearby. You'll need to bring linens, bedding and groceries. The elevation range is 2,306-3,277 feet. Website HERE.
Monte-Ste-Anne
Monte-Ste-Anne's 100-plus-kilometre ski trail system and 40-plus-kilometre separate snowshoe network (www.mont-sainte-anne.com) can often open in November and stay open into April. It's a famous four-season resort with alpine skiing, ice skating, dog sledding, even paragliding a few miles from the cross-country Centre. The elevation range is 1,200-2,100 feet.
My favourite accommodations are at trailside B&B L'Auberge du Fondeur, famous but not fancy, with its wine and coffee bar, lunch and dinner kitchen privileges, lounge, waxing room and sauna. Lodging includes ski passes. An option at the alpine resort is the full-service Chateau Mont-Sainte-Anne (chateaumsa.com).